On my recent girls' trip, our tour included trips to some of the best temples to see in Thailand including Wat Pho, (Temple of the Reclining Buddha), Chai Wattanaram Temple, Royal Summer Palace, and Wat Mahathat (Temple of the Great Relic). Much like Mosques, Synagogues, and Churches, there is Thailand temple etiquette and basic do's and don't's associated with what to wear to temples in Thailand. If you plan on visiting the temples in Thailand, here are some basic Thailand temple etiquette tips to keep in mind.
Get there Early
Since the temples in Thailand are popular tourist attractions, they get very crowded throughout the day. As mentioned, at the time of my visit the country was mourning the death of King Bhumibol Adulyadej, so people went to the temples to pay their respects. The temples are also places of worship.
Get a Useful Tour Guide
It's very helpful to get a guide when visiting the temples in Thailand so you can learn more about the meaning behind statues, motifs, and architectural history. On our visit to Wat Pho, we learned:
Prangs and stupas have former Siamese kings, revered monks or disciple's cremated ashes enshrined in them.
Some stupas have Buddhist and Hindu motifs
The doorways to the temples are statues of Chinese warriors, philosophers, and Marco Polo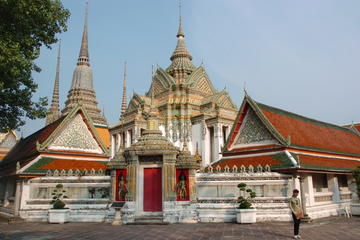 Half Day Bangkok Temples Tour in Bangkok
Thailand Temple Dress Code – Cover Up!
Before traveling to Thailand, it is important to know what to wear in Thailand temples. Prior to our visit, our tour guide suggested we avoid wearing "Bow Wow" clothing (when you bow, the people say 'wow'). Stay away from clothes that don't cover your knees, shoulders, and midsection. Depending on their discretion, you may need to rent clothing. When visiting the Royal Summer Palace, I wore a maxi dress, but they determined it was 'too sexy' because of slits on the sides. I ended up renting a wrap skirt and top for 500 Thai Baht.
Take off Your Shoes
There may be a number of times where you need to take off your shoes when visiting Thai temples. Shoes aren't monitored by security so wear inexpensive shoes, sandals, or footwear you don't mind losing. In addition to possible theft, someone can mistakenly think you're footwear is theirs.
Show Respect for Worshippers
Part of traveling, in general, includes being respectful of people's way of life. These temples are tourist attractions, but people also worship there. Even if you don't agree with their religious practices, it's disrespectful to disrupt people's prayers and/or sacrifices. Here are some other tips to keep in mind when visiting Thai temples.
Be respectful to the monks in and out of the temples
You are not supposed to be higher than Buddha; kneel or lower yourself when taking pictures
Don't touch any of the statues in the worship area
You May Also Like
Top Things to Do in Kanchanaburi
The Best Places to Take Photos in Bali
Bali Lookbook: What to Pack for Bali + Outfit Ideas
Have you visited any of the popular temples in Thailand before?