This post "Afro Caribbean Natural Hair Brands You Should Know" is not sponsored but contains affiliate links. For more information on the sponsored post and/or affiliate link policy, please click here.
This week I celebrated the sixth year of my natural hair journey. While it was a struggle to find staple products in the beginning, trial, and error allowed me to learn about many popular natural hair brands by black business owners. A lot of them are Afro Caribbean Natural Hair products.
Celebrating Caribbean American Heritage Month AND my natural hair journey anniversary, here are some Caribbean hair products to shop in stores and online.
Karen's Body Beautiful
Founded by a Brooklyn native with Guyanese roots, Karen's Body Beautiful started with Karen Tappin producing products in her kitchen. What started as a home-based business expanded into a full natural hair and skincare brand.
Falling for the Butter Love for my 4a hair and dry skin, Karen's Body Beautiful was also one of the first Caribbean hair products available at Target Stores.
Wonder Curl
Wonder Curl is another product formulated in the kitchen by its Haitian-American founder, Scarlett Rocourt. Wonder Curl products are formulated to give your hair maximum moisture and streamline the hairstyling process by reducing the number of products needed.
Some ingredients found in Wonder Curl products are castor oil, aloe vera, and shea butter which are designed to nourish your natural hair. When I visit Wesley Styles to trim my hair, we usually use the Curl Control Styling Lotion for a wash and go.
Tropic Isle Living
Founded by husband and wife Michael & Lois Reid-Hines, Tropic Isle Living is a Jamaican-American beauty and wellness brand known for its hair oils. Pure Jamaican Black Castor Oil can be used as a sealant in the L.O.C. method, regrowing your edges and more.
In over 20 years, the brand has expanded to include shampoos and conditioners as well as hair and body treatments. The oil has even become my winter haircare staple in my natural hair journey.
Kinky Tresses
Founded by Jamaican-American Shawna Moses, a laboratory scientist, Kinky Tresses products were created to treat dry hair. Through the popularity of the Coconut Mango Hair Butter, the line expanded through the years. The full Kinky Tresses hair products include a Moisturizing Shampoo, Nourishing Hair Oil, Hair Milk Leave-in, and Restorative Conditioner.
Kinky Tresses hair products have become a staple to my personal wash day routine and I have been using the Moisture Max Bundle for styling twist-outs, braid-outs, and protective styling. Last summer I was even a hair model for Kinky Tresses at Ecodermis and Wolfberry in Brooklyn, NY. Check out the video clip of Shawna teaching how to find your hair's porosity.
Kreyol Essence
I was introduced to Haitian-American brand Kreyol Essence visiting the Kia Suite on Blogalicious Weekend. Hoping to revive the Haitian economy, Kreyol Essence provides jobs for women in Haiti producing hair and beauty products containing Haitian Black Castor Oil.
The Kreyol Essence product line is made from natural ingredients, focusing on dry hair and skin. I've personally used the travel-sized Goat + Coconut Growth Hair Milk and Haitian Black Castor oil on my trip to Rome and it literally brought my twists to life.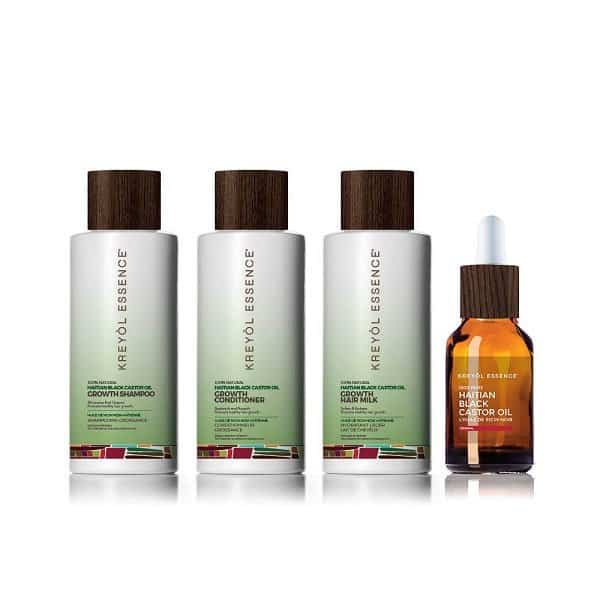 Kinky-Curly
Kinky-Curly was one of the first natural hair brands to create all-natural products specifically for curly and textured hair. If you're an OG natural, the Kinky Curly Knot Today has been a staple for many. The Kinky-Curly brand started when owner Shelley Davis, traveled to her homeland of St. Vincent and the Grenadines and lost her luggage.
After not being able to find her staple products, a family member created a mix of natural herbs and plants to wash and style her hair. Shelley noticed that her hair was stronger, shinier, and healthier than ever and took cosmetic chemistry classes before releasing this organic curl care line for wash-and-go hair.
Alikay Naturals
If you've been natural for over 5 years, I'm pretty sure you've heard of Jamaican-American Rochelle Alikay Graham-Campbell of Alikay Naturals. Rochelle also created the L.O.C. (leave-in, oil, cream) method many naturals use in their hair regimen.
The Alikay Naturals Lemon Grass Leave-in Conditioner has been a personal favorite for refreshing my crochet braids.
Bel Nouvo Beauty
The name Bel Nouvo means "New Beauty" in Haitian Creole. Bel Nouvo Beauty was founded in 2012 by Haitian-American Arcman Durosier and provides beauty products for women & men to maintain healthier skin & hair. Arcman's sister was converting to a natural lifestyle and couldn't find anything that worked.
After many trials, he created natural hair and body products. At the time there weren't many products available offering moisture without harmful chemicals so he decided to sell his products.
Kurlee Belle
Kurlee Belle was created by Bahamian-American Terrinique Pennerman. I discovered this brand back in 2014 after attending her event "Cosmos & Curls NYC". According to its founder, the Kurlee Belle brand was created to "help women look and feel naturally beautiful."
Kurlee Belle natural hair care products are formulated to cleanse, soothe, define, nourish, and repair hair. There are six products in the Kurlee Belle product line that contain all-natural ingredients found in the Bahamas and throughout the Caribbean: Almond And Shea Butter Moisturising Shampoo, Thirsty Kurls leave-in conditioner, Banana Nut and Avocado Deep Treatment, Kurl Defining Creme, Jelle Coconut Styling Gel, and Kurlee Tropical Oils Blend.
After transitioning for 14 months, I believe returning natural is one of the most freeing decisions I've ever made. Embracing my kinks AND shrinkage has truly allowed me to redefine what I thought was beautiful.
As a natural and Caribbean American, I love discovering and sharing Afro-Caribbean hair products that have evolved through these 6 years of being natural, and can't wait to try more.
Want to try these Caribbean Natural Hair Brands? Here are some products you can purchase online!
You May Also Like
6 Tips for Swimming With Natural Hair
5 Romantic Natural Hairstyles for Valentine's Day
4 Easy Natural Hairstyles for Working Out
Have you tried any of these Caribbean hair products?