Growing up in a Caribbean-American household and being exposed to many spices and flavors, a big reason why I travel is to learn about the history, and culture, and eat delicious food. Having not taken a solo trip since Paris and squeezing in the last bit of "summer vacation" before my second semester of graduate school, I took a trip to Savannah, GA. I knew Savannah would be a great solo trip destination but didn't know the food would be so good! If you love to eat when traveling and planning a trip to Savannah, here's an affordable foodie's guide to eating in historic Savannah restaurants.
Where to Eat in Historic Savannah
Whether you're on Bay Street, River Street, or Broughton, most of the restaurants in historic Savannah are all within walking distance of each other. A great tip before traveling is to add a list of sites and restaurants you would like to visit on Google maps. You can use it as a guide when walking or driving to the destination on your actual trip. Here's a list of places to eat in Savannah that I visited for lunches and dinner.
Orale Tacos for a Tacos and Margaritas
On day one in Savannah after checking into the Andaz Hotel and learning about African American History in Savannah, I was FAMISHED. I received a recommendation from a Downtowner driver for Orale Tacos on Congress Street. It was within walking distance of my hotel and I just happened to step in during their happy hour. I had one of the BEST jalapeño margaritas and the mahi-mahi taco combo was filling. For added flavor, I made sure to add the Orale sauce to my meal.
Mabel's Cupcake Emporium for Baked Goods
Looking for a small sweet treat nearby, I walked over to Mabel's Cupcake Emporium. The cupcakes were too big for my appetite so I settled for some macarons to snack on in the hotel for the night.
Belford's for Seafood and Steaks
Shortly after my tour of the First African Baptist Church, I walked to Belford's Seafood and Steaks. Belford's Seafood and Steaks is ranked as one of the best restaurants in Savannah and the food did not disappoint. It is also one of the few Black-Owned restaurants in City Market so I HAD to support. My meal of choice was fried green tomatoes as an appetizer with salmon dinner. To end the experience, I had a peach cobbler à la mode for dessert.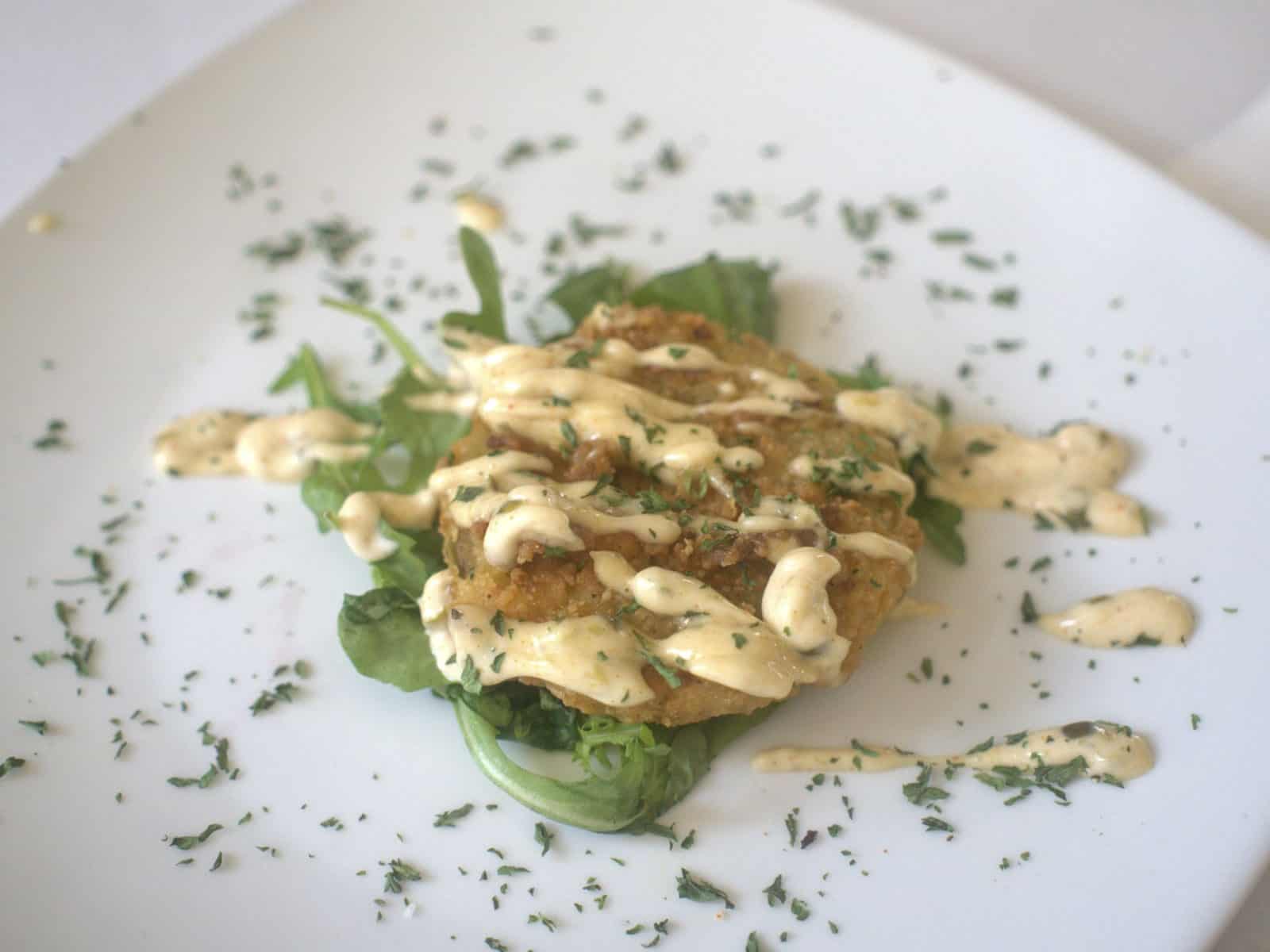 B Matthews Eatery for Brunch
Saturdays (and Sundays) are for brunch so I walked over to B. Matthew's Eatery which is one of the best brunch restaurants in Savannah, Ga. The Crab Benedict and biscuit were so good and I purchased another biscuit as a side order. If you're traveling to Savannah in a group, B. Matthew's gets pretty crowded for brunch. Since I was solo, I opted to sit at the bar, but if you're with a group, I highly suggest visiting early or making reservations on their site.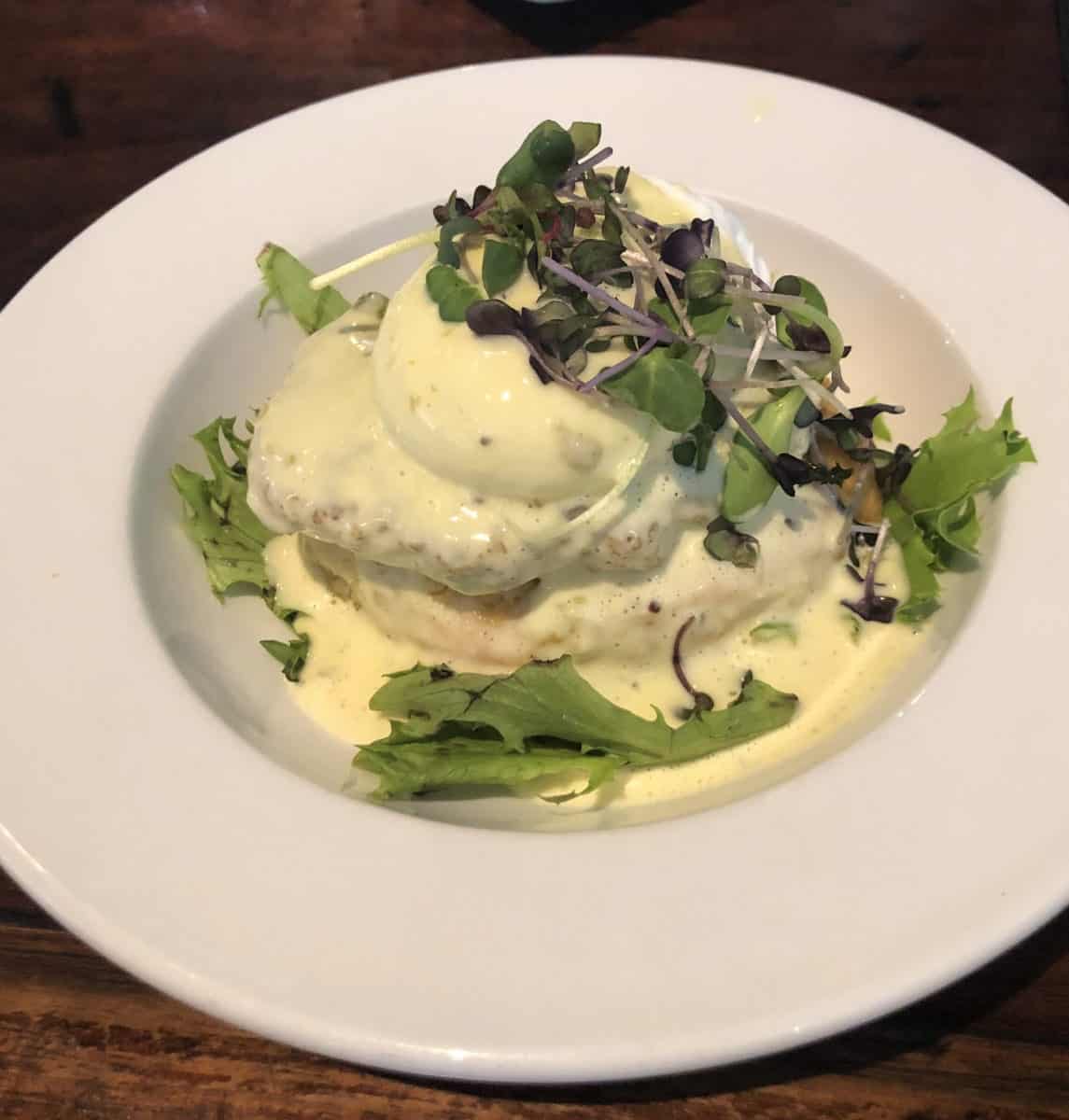 Savannah Seafood Shack for Seafood Boils
Want to know where the locals eat in Savannah? Savannah Seafood Shack wasn't on my list but recommended by my guide on the Savannah Taste Experience Food Tour. I love fresh seafood and the famous Low Country boil loaded with shrimp, corn on the cob, premium beef sausage, and red potatoes was really good. Our tour guide also recommended the Seafood Cone too. If you want to save a few dollars on your meal, visit during lunch
The Grey for Great Food and Wine
The Grey, an award-winning restaurant in Savannah co-founded by NYC natives and my favorite choice out of the entire trip. The restaurant is the site of a restored Greyhound bus station with a diner look and offers tapas-like plates for individuals and groups and serves boiled peanuts as a snack before dinner. I had no idea this was a common snack in Georgia, but it was good. I ordered the charred okra along with Smoked Lamb and it satisfied my tastebuds. This restaurant's price point is a little higher than the others mentioned, but the food was absolutely worth it. This is another restaurant I recommend making a reservation for before visiting.
LuLu's Chocolate Bar for Dessert and Sweet Martinis
The last place I visited for a sweet treat was LuLu's Chocolate bar. Even though I am not a huge fan of chocolate I have read great things about their chocolate martinis. Unfortunately, I was so stuffed from eating at the Grey, I just wanted to go back to my room and the martinis aren't offered as a "to-go" drink. I instead bought white chocolate and raspberry crème brûlée
Secret East Side Food Tour with Savannah Taste Experience Food Tours
If you're visiting a city like Savannah that's known for its delicious food or are curious about the different cuisines offered, I suggest a walking food tour. When doing research for my trip I knew I wouldn't have time to visit all of the places suggested so I searched for the best food tour in Savannah. I did the Secret East Side Food Tour with Savannah Taste Experience Food Tours. In addition to learning some of the history, architecture, and culture in Savannah, we had different foods and drinks from famous restaurants and hidden gems in the historic Eastside and historic downtown Savannah neighborhoods. Here are the restaurants we visited on the three-hour taste of Savanna food tour.
Capital Bee Company
We started off our tour by doing honey tastings at Capital Bee Company. Capital Bee Company provides more than 15 flavors of honey for tasting, home decor, candles, and body products. I had no idea honey had different flavors and was really impressed by the quality, taste, and the owner's knowledge of bees and the honey industry.
Cha Bella for their Unique Menu
The next stop of our tase of Savannah food tour was Cha Bella. Cha Bella is a farm-to-table-based restaurant with almost everything sourced within driving distance of the restaurant. Because of this, the menu changes often. We tasted their rice balls appetizer and purchased a refreshing "Lemon Lavendar" cocktail to go. If you're visiting Cha Bella, there are cute swings in the outside dining area great for photo ops.
Walls BBQ for Traditional Southern Food
I LOVE BBQ and was excited to see Walls BBQ, on the list for our taste of Savannah food tour. Walls BBQ is another black-owned restaurant and has been serving southern comfort food and barbecue in Savannah Since 1963. Walls BBQ known to many as a hidden gem in Historic Savannah has been featured on Food Network and named "Best BBQ Restaurant in Savannah" by the Atlanta Journal Constitution. We sampled a BBQ chicken sandwich with their homemade barbecue sauce. Our guide mentioned words on the menu are scrambled indicating the items are sold out for the day.
Ashford Tea Company for Teas and Tisanes
After tasting Walls' we walked over to Ashford Tea Company which is another black owned business providing quality teas and tisanes from around the world. Even the coffee lovers on our tour were impressed by the quality and taste of the hot and iced teas sampled. We even left with a cup of iced tea to drink with our sandwich at Zunzi's.
Zunzi's for Sandwiches
Zunzi's is a South African inspired takeout and delivery restaurant and another place where the locals eat in Savannah. The menu is influenced by South African, Swiss, Italian, and Dutch heritage of the founders. We were able to sample the "CONQUISTADOR" sandwich made with fresh French bread, lettuce, tomato, chicken, Zunzi's dressing, and their famous Sh!t yeah Sauce.
Rise Biscuits & Chicken
Since one of the original restaurants on our taste of Savannah food tour was under construction, our guide took us to Rise Biscuits & Chicken to taste their fried chicken sandwich with biscuits. Coincidently I visited Savannah during the Popeye's chicken sandwich craze, and happy I didn't get a chance to taste it. The biscuits at Rise were warm, fluffy, and tasted even better with honey.
Leopold's for Fresh Ice Cream
Did you know that Tutti Frutti ice cream originated in Savannah Georgia at Leopold's Ice Cream? Leopold's Ice Cream is a Savannah staple that has been open for 100 years and offers, homemade ice cream, soups, sandwiches, salads, and baked treats. If you're vegan, have no fear, Leopold's offers a creamy Vegan Vanilla ice cream made with coconut cream and sells sorbets. We tried the most adult flavor: Butter Pecan which is made with locally roasted pecans.
I hope this guide sharing where to eat in Historic Savannah was helpful with your trip planning. Make sure to pin for future reference and check back on the blog as I share my weekend travel guide to Savannah and notable sites for African American history in the city.
Read More Travel and Food Guides
Traditional Moroccan Food and Drinks to Try
Trini Style Cooking With the League of Kitchens
What are some other great places to eat in the Savannah Historic District?