This post "How to Spend a Girls Weekend in Montego Bay" is not sponsored, but contain some affiliate links. For more information on the sponsored post and/or affiliate link policy, please click here.
Birthday celebrations with my cousin have been fun for the past four years. The tradition started for my 30th birthday in Barbados and we followed up every year by visiting Martinique in 2017 and Providenciales in Turks and Caicos last year.
Since we're both loyal Delta SkyMiles Members, we decided to use miles to spend a girls weekend in Montego Bay, Jamaica. This was my first time in Jamaica, but my cousin has gone many times. Read more about how we spent three days in Montego Bay and things to do on a girlfriend's weekend in Jamaica.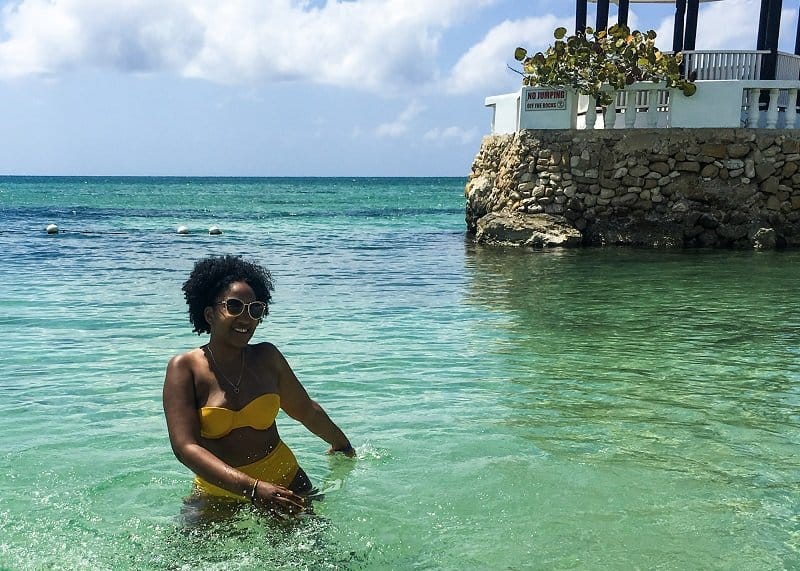 Is Jamaica Safe for Female Travelers?
Before planning our girls weekend to Montego Bay, I received negative comments about safety in Jamaica. People who'd never even visited mentioned Jamaica is not safe for female travelers. The US has a Level 2 travel advisory to certain cities in Jamaica including Spanish Town, Kingston, and parts of Montego Bay. Here are my two cents: Tell dem "shut yuh rass!" Just like there are unsafe places in your local city, the same goes for places in Jamaica and ANY country for that matter.
During our three days in Montego Bay, there was never a moment where I felt unsafe; even when we went partying late at night. The most annoying part was catcalling, but that isn't something I don't deal with every day living in NYC. If you're traveling to Jamaica with a group or as a solo female traveler, always be aware of your surroundings and avoid secluded areas.
How Much Money to Bring for a Girlfriends Weekend in Jamaica?
Paying for transportation will take up most of your money. Be prepared to spend $20-100+ depending on how far you're traveling. Try to cushion about $150-200 a day for food, transportation, and activities. If you plan on staying at an all-inclusive resort, exchanging money is not really necessary.
We did a combination of walking, participating in tours that included hotel pickup and drop off, and we found a taxi driver with reasonable pricing. We paid in both US and Jamaican dollars. With the exception of our trip to Martinique, our general experience with most locals in the Caribbean is they prefer getting US dollars over their local currency. Below are the exchange rates at the time of our trip:
$1 USD = 135.30 Jamaican Dollars
$1 CAD = 100.53 Jamaican Dollars
€1 EUR = 151.05 Jamaican Dollars
£1 GBP = 172.20 Jamaican Dollars
Where to Stay in Montego Bay
We stayed at the SeaGarden Beach Resort which is a Jamaican-owned beach-front all-inclusive resort. It was located close to the Hip Strip in Montego Bay which included many restaurants, gift shops, bars, clubs, and other all-inclusive resorts including Sandals and Royal Decameron. If you're interested in "living like a local" or are a budget traveler, consider staying in an Airbnb or another type of villa rental.
Things to do for a Weekend in Montego Bay
As mentioned, this was my first time in Jamaica, but my cousin has been several times with friends. Here are some popular attractions and activities on the island that you can add to a girlfriends weekend Montego Bay itinerary. Taking a cruise to Jamaica? Some are also great shore excursions for a day in Montego Bay.
Take a Catamaran Cruise – Enjoy food, drinks, the sounds of reggae music, and views of the Caribbean Sea via Catamaran Cruise.
Visit the Waterfalls – A cruise stop or weekend in Jamaica can't be done without visiting the beautiful waterfalls. Dunn's River Falls is one of the more popular waterfalls in Jamaica, but you can also visit others including Blue Hole, Turtle River Falls, YS Falls, and more.
Mystic Mountain – Looking for an adventure? Ride a bobsled through the rain forest at Mystic Mountain located in Ocho Rios inspired by the Jamaican Olympic bobsled team from 1988.
Luminous Lagoon – See the water illuminate in the Luminous Lagoon. This natural wonder is found in 4 places in the world, but it is the brightest in Jamaica.
Enjoy the Nightlife – Looking for some nightlife in Montego Bay? According to our driver, Margaritaville and Pier 1 are the best places for Montego Bay Nightlife. On our first night, we walked over to Margaritaville and danced all night. Pier 1 is great for Wednesday and Friday nights while Margaritaville is good for Thursdays and Saturdays.
Go Bamboo River Rafting – Bamboo rafting is well known throughout the island, especially on the Martha Brae and the Rio Grande rivers. We went rafting on the Martha Brae and I highly recommend it for a slow-paced water activity.
What to Eat and Drink in Jamaica
Despite a lot of hiccups, our resort's breakfast buffet had great yam, dumpling, and banana (plantains), saltfish okra, and jerk chicken. Red Stripe beer and mixed drinks with Wray and Nephew white rum were our drinks of choice outside of staying hydrated with water and coconut water.
If you're a foodie, limit your time at the resort and hit up local restaurants for delicious eats. You can also take learn how to make authentic Jamaican food by taking a cooking class.
I hope this mini guide to a girlfriends weekend in Montego Bay was helpful. If you're planning a trip to Montego Bay Jamaica, pin this post for future reference.
Check Out These Other Caribbean Travel Guides
5 Fun Things to Do in San Juan, Puerto Rico
The Best Beaches in Martinique
Puerto Plata City Tour: 4 Fun Day Trips from Puerto Plata
Have you been to Montego Bay?