I received the Liztek Portable Wireless Bluetooth Speaker for review. For more information on the sponsored post and/or affiliate link policy, please click here.
It's the season of gifting! Christmas is days away. Have you made your list? Checked it twice? If you're a last-minute shopper and haven't gotten a gift for your electronic enthusiast, I have a great gift for you: the Liztek PSS-100 Portable Wireless Bluetooth Speaker with Built-in Speakerphone.

Liztek Portable Wireless Bluetooth Speaker Specs
Bluetooth v3.0 Technology allows you to Connect up to 33 feet away.
Stream and share music, movies, games, phone, and conference calls anywhere.
Premium Sound with Bass Enhance Technology. Two 40mm Drivers deliver crisp clean sound with deep bass
Built-in Li-Ion Rechargeable Battery for up to 10 hours of playtime.
Built-in microphone for hands-free speaker phone calling Easy to pair – No code/pin needed
Allows you to connect the speaker directly to a standard headphone jack.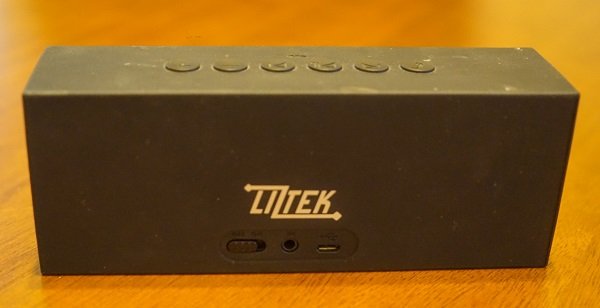 Using the Liztek Portable Wireless Bluetooth Speaker Daily
The Liztek speaker has been very useful during my wash day routine. Wash day can be a long process, but depending on the style, it can take up to two hours. Since I proclaim to be a lazy natural and don't like doing my hair, I need "extra entertainment" when washing and styling. I leave the Liztek speaker in the bathroom when washing and styling or in the house when cleaning up. The Liztek Bluetooth Speaker can also easily connect with devices like my iPad, iPhone or Android device. This is perfect for playing my favorite soca tunes or receiving a hands-free call. It also has the ability to connect with devices that don't have Bluetooth technology via the auxiliary cord.
Using the Liztek Speaker on Vacation
The Liztek speaker is also great for traveling. I haven't packed it for any solo stays, but it will be a great addition for potential girls trips. If I had enough room in my carry-on, I would've packed it on my road trip for the Scavenger Hunt Wedding.

For under $30, the Liztek Bluetooth Speaker is a reasonable price for gift giving. It is also lightweight and can be used for travel and beach days. If you don't want to buy an expensive Bluetooth speaker for your tween, teen or even yourself, this is a good deal.
Have you heard of the Amazon best-selling Liztek PSS-100 Portable Wireless Bluetooth Speaker?