My sister and I received a complimentary day pass to the Warwick Paradise Island. All opinions expressed are my own.
When I visited the Bahamas for Bahamas Carnival weekend, I wasn't too upset because of the short visit. From the service of the staff to the lovely decor and incorporation of Bahamian culture on the property, I knew I had to revisit the Warwick Bahamas with my sister on our cruise stop. Day passes at the Warwick Paradise Island Resort are available from 10-6 PM and guests get access to the resort's pool, private beach, restaurants, gym, spa, resort activities, WiFi, and other amenities. If you're visiting Nassau on a cruise stop, here are a few ways to take advantage of a day pass at the Warwick Bahamas.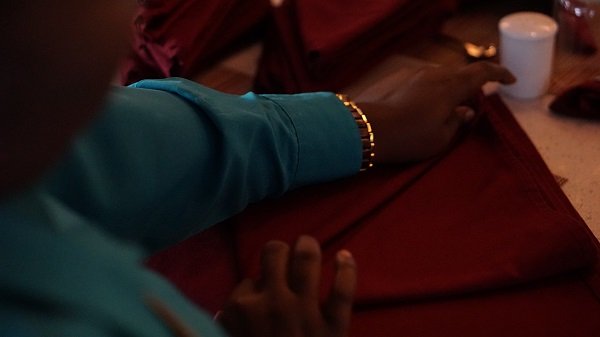 Catch Views of the Nassau Harbour
My favorite part about visiting the Warwick Bahamas is the view of the Nassau Harbour. On my first trip, I saw the best view from the Harbour Premium Balcony Suites, but this time I made it my business to take a walk on the boardwalk for a better look. We saw tour and speedboats passing by and I think I even saw a flying fish jump out of the water.
Grab a Bite at the Verandah Buffet or Chickcharnie's
The Verandah buffet offers local and international breakfast lunch and dinner meals. For a blast from the past of the resort's origins, it features an art-deco like decor. Like most resorts, beachwear is not allowed in dining areas; if you wear a bathing suit, wear a coverup. Chickcharnie's serves light bites like conch fritters, pizza, burgers, and fries. According to Bahamian folklore, Chickcharnies are mythical creatures that live in the forests. Travelers that treat it well are rewarded with good luck.
Enjoy Drinks and Entertainment at the Hog Bar
If you're familiar with Bahamian history, you know that Paradise Island was once called Hog Island. This was to refer to wild pigs that inhabited the island. The Hog bar at the Warwick serves mixed alcoholic and non-alcoholic drinks for guests to enjoy by the pool, beach or Verandah patio. After a photoshoot with my new camera, my sister and I took a break to grab a drink from the bartender.
Relax by the Pool or Beach
There's nothing like laying out on the beach or by the pool on a sunny day. By the looks on my face, you can tell I enjoyed photo time. In true Trini form, I had to stop and dance a few times. The DJ by the hog bar played too many good soca tunes for me to "waste the music" as my aunt would say.
A Deluxe Day Pass at the Warwick Bahamas is $95 for adults only, 18+, and the resort offers a group rate for parties of 8 or more guests. It is a short taxi ride or walk away from the $4 ferry to Providence Island. My sister and I purchased round-trip ferry tickets and walked over. For more information on reserving a day or night pass at Warwick Paradise Island, visit their official website.
You May Also Like
How to Plan an Independent Trip to Cuba
Your Ultimate Guide to Spending 5 Days in Aruba
What are your favorite resorts for Day Passes?