With 10 adults and 5 children on a family vacation, an extra vehicle was needed. A few weeks before heading to Orlando, I decided to get a rental to accommodate everyone. Since I enjoyed the Ford Escape so much, I chose that or it's equivalent, but only the Nissan Rogue was available. Read more about our week in Orlando using the 2015 Nissan Rogue.
First Impressions of the 2015 Nissan Rogue
Still being somewhat intimidated driving huge cars, the Rogue was a good size. We're all team carry-on, but the Rouge has more than enough space for 2 large suitcases. If needed, we could've brought the back seat down to fit more things.
Safety & Features
The Nissan Rogue is designed to fit 5 people and as with most cars, it has the LATCH system that worked well on my 3-month-old nephew's infant car seat. Other standard safety features include:
Nissan Advanced Air Bag System
Vehicle Dynamic Control (VDC) with Traction Control System (TCS)
Anti-lock Braking System (ABS) with Electronic Brake force Distribution (EBD) and Brake Assist (BA)
Tire Pressure Monitoring System (TPMS) with Easy-Fill Tire Alert
The car given did not include a navigation system, but I was able to easily connect my phone via Bluetooth to use google maps for directions to the villa rental. It also came with a backup camera. If you've read any of my previous car reviews, you know that is my favorite feature in pretty much any car I get. Thinking about it now, I probably should've waited for my brother's flight to land to have some company for my lonely 30+ minute drive.
Having the Nissan Rogue on our vacation worked for airport pickups, Walmart runs, my dad's medical treatments, and visiting the clubhouse at our Villa's Tera Verde Resort for the playground, pool, or tiki bar time. We even used it for our outings to the Disney Boardwalk and I-Drive 360. We only filled up on gas once during the whole week. The average gas mileage is up to 26 city / 33 highway.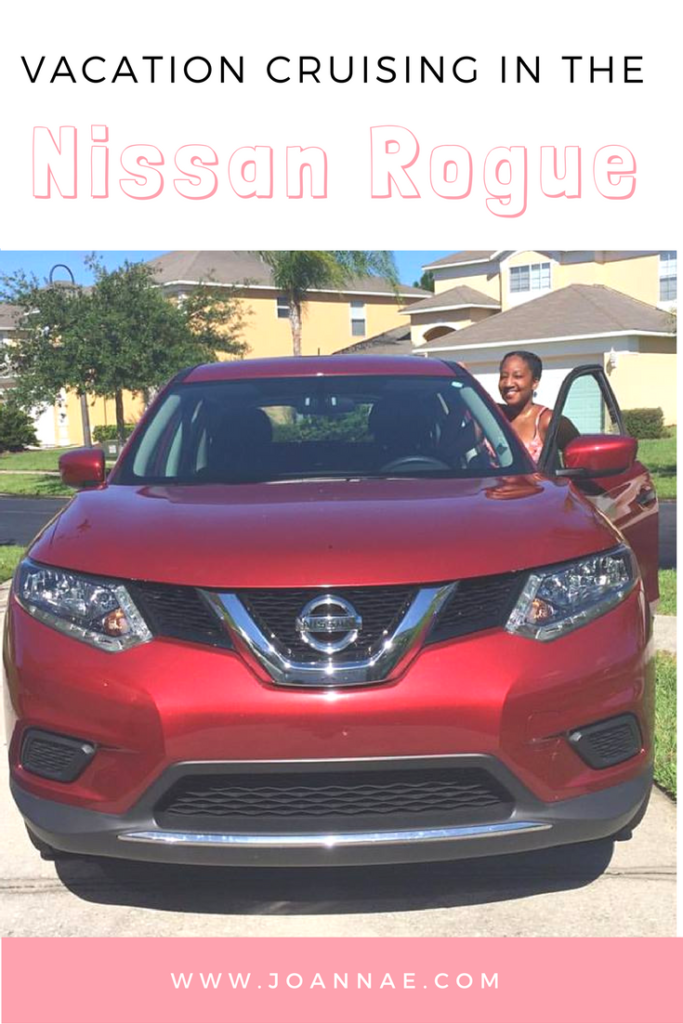 The starting price for the Nissan Rogue is $23,330. For more information, visit your local Nissan dealer or NissanUSA.com.