This post "Best Wash and Go Products for Type 4 Hair" is not sponsored but contains some affiliate links. For more information on the sponsored post and/or affiliate link policy, click here.
Summertime is here and that means it is wash and go season. If you've been following me for a while you know the wash and go has been my favorite natural hairstyle. Of course, everyone's experience is different. The wash and go style has come through for me on several occasions especially when I had no clue what to do with my hair. If you don't think a wash and go on type 4 hair is possible, here are some of the best wash and go products for Type 4 hair on the market.
Read Also: How To Achieve The Best Wash and Go on Kinky Hair
Aunt Jackie's Don't Shrink Flaxseed Elongating Curling Gel
When I tried Aunt Jackie's products for the first time, I fell in LOVE with the Don't Shrink Flaxseed Elongating Curling Gel. Not only defines my curls, but it also keeps my hair soft. I've NEVER had a style last longer than a day or two, but when using this product my wash and go lasted over a week!
Eco Style Gel
Eco Style gel was the first wash and go products for natural hair that I tried as an early natural. It is cost-effective and comes in different varieties. If you're a product junkie it's good to get products that have more than one use and Eco Style gel can be used for hairstyles other than a wash and go. I've used pretty much every variation, but my favorite formulas have been using the Krystal and Olive oil formulas.
Jane Carter Curls to Go Coiling All Curls Elongating Gel
Jane Carter's Coiling All Curls Elongating Gel was designed to define curls and reduce shrinkage. The product works well on all hair types, but the line is specifically formulated to achieve the perfect wash and go for type 4 hair. If you're looking for wash and go steps to achieve this style, check out my easy summer wash and go routine using Jane Carter Curls to Go products below.
Camille Rose Naturals Curl Maker
Camille Rose Naturals Curl Maker was inherited to me by one of my friends. I've heard amazing things about the Camille Rose Naturals brand and was excited to try this wash and go product on my natural hair. I hated the Curl Maker initially because it made my hair sticky. After a few uses, I was able to perfect my technique by mixing it with one of my staple leave-in conditioners.
Read Also: The Best Staple Products for Type 4 Natural Hair
Eden BodyWorks Coconut Shea Curling Jelly
A lot of you loved my hair in Jamaica and that wash and go style was achieved using Eden BodyWorks Coconut Shea Curling Jelly. I started using this product since it first launched back in 2016, but circled back last year since my birthday trip. This product is defines and holds curls in place, control frizz, and provide a soft, shiny finish. For best results and added moisture, you can combine the Curling Jelly with the Curl Defining Creme. For my hair, I paired it with Carol's Daughter Pracaxi Nectar Curl Twisting Custard.
Mielle Organics Pomegranate & Honey Coil Sculpting Custard
The latest wash and go product I have used on my 4a hair is the Mielle Organics Coil Sculpting Custard. As mentioned in my Pomegranate and Honey Collection review, I did a side by side wash and go comparison on my hair using the custard and Curl Smoothie and the results from custard were better. My hair was moisturized, well defined, had a nice shine, and I was able to stretch my wash and go for almost a week.
Kinky-Curly Curling Custard
I have never used the Kinky-Curly Curling Custard for a wash and go, but it was one of the latest purchases in my natural hair haul. The Kinky-Curly Curling custard conditions, provide shine and eliminates frizz. The humectant properties in its ingredients also help to preserve moisture.
The best way to find out if these wash and go products work best on your hair is to try them for yourself. If you're interested in using these products for a wash and go, finger coils, or other curl defining products for natural hair, shop this post below.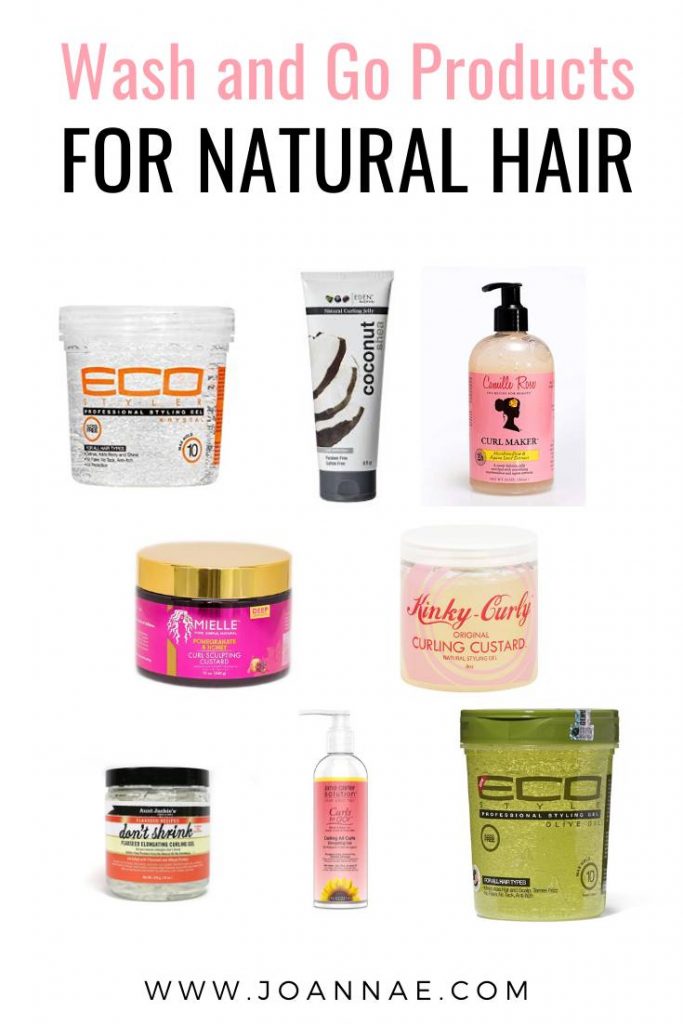 What are your favorite wash and go products for natural hair?