How do you wear your natural hair on vacation? I've taken a good amount of trips and protective styles have been my go-to for vacation hairstyles since they are low maintenance.
As a black woman, finding the best natural hairstyles for my vacations is important as it correlates with the various activities on the itinerary and what hair products or hair tools to pack.
If you're looking for suggestions for the best protective hairstyles for the beach, your next family trip, foodie adventure, or historical tour, here are the best vacation hairstyles for black hair no matter what your hair type is.
Box Braids
Box braids are a great hairstyle for vacation because they're easy to manage. You can get a shoulder-length bob, traditional, or knotless box braids to create other hairstyles and you still have the ability to do regular hair maintenance like cleansing and oiling your scalp.
If you are getting your braids done by a professional, make sure they are not braiding too tight. Save your edges girl! If you plan to do water activities, box braids can weigh your hair down and take a long time to dry.
Crochet Braids
Crochet braids are hands down one of my favorite protective natural hairstyles for a Caribbean vacation. The best part about crochet braids is the ability to get them in different looks like curls, braids, two-stranded twists, kinky twists, and loc patterns.
You can purchase a curl pattern like the FreeTress Bohemian or Brazilian braid hair or Sensationnel Aruba Wave crochet hair as I wore on my birthday trip to Turks and Caicos. Installation of crochet braids is usually under three hours and drying time after washing or swimming is quick.
Check out my full review of the Sensationnel Aruba Wave Crochet hair below
Goddess Locs
Going on a month-long trip or want locs without the commitment? Consider getting faux locs. Faux loc styles like Goddess locs are a great protective style for the beach, long-term backpacking, or round-the-world trips. Faux locs are one of the best vacation hairstyles for black hair because they're easy to maintain and look better as time goes by.
If you to save money, check out faux locs tutorials on YouTube because faux locs are pretty expensive when done professionally. They also take a very long time to finish depending on the method used by the stylist. The end results, however, are beautiful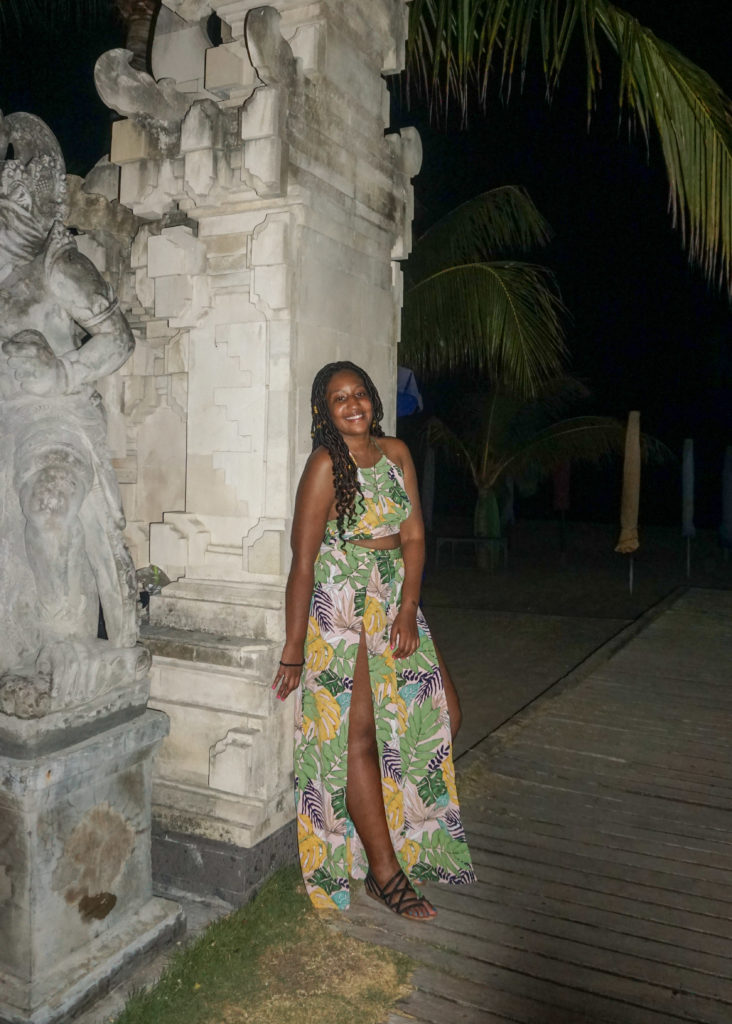 Weaves or Sew-Ins
One of the most popular hairstyles for black women with relaxed hair and in the natural hair community is a weave or sew-in. These styles give you the ability to wear everyday hairstyles while protecting your own hair.
To wear a high ponytail or buns, consider getting a vixen sew-in. If you plan on getting your hair wet use human hair and to take proper care of your hair. Make sure the scalp is fully dry to avoid mold buildup.
Twists, Braids, or Buns on your Hair
If you're not a fan of adding synthetic hair extensions or human hair to your head because of cost, last minute vacations, or other reasons, you can always rock your naturally curly or relaxed hair.
Do easy natural hairstyles by braiding your hair in cornrows braids, french braids halo twists, mini twists, a two-strand twist, a high or a low bun, or braids.
The options are limitless. When styling in twists or single braids, you can wear it in a puff, braid out, or twist out towards the end of a 4-5 day vacation.
Wigs
One of the easiest vacation hairstyles is a wig as they are literally instant hairstyles. You can opt for a kinky or curly hair full wig like Sensationnel's Curls Kinks and Co wigs for naturals or blown-out like my favorite Outre Annie half wig.
If you plan on wearing wigs as a protective style for the beach or Caribbean vacation be prepared to sweat a little more.
Butterfly Locs
Similar to box braids, and passion twists, a great thing about wearing Butterfly locs is can achieve a quick style in little time. They are great for the beach and they last long. Like faux locs, the longer you wear the style, the better they look.
Head Wraps
The last vacation hairstyle I suggest is not a style but is wearing a headwrap. You can use an existing light scarf regularly worn during the spring or fall months or run to a local fabric store to purchase material that will work well with existing outfits.
Headwraps can come in handy when traveling to conservative countries that require covering your head or bad hair days. You can also wear them as headbands or bows.
If you found this post sharing the best vacation hairstyles for Black hair helpful, share it with your social community or pin it for future reference.
You Might Also Like
Wearing Crochet Braids as a Protective Style
How to Take Care of Natural Hair on Vacation
My Travel Toiletry Bag Essentials
Do you wear protective styles on vacation?