This post "How to Wear a Maxi Dress on Vacation" is not sponsored, but contains some affiliate links. For more information on the sponsored post and/or affiliate link policy, please click here.
Do you wear maxi dresses on vacation? Maxi dresses are one of my favorite dress styles for vacation because they are easy to pack, comfortable, great for all body types, and can go from a day-to-night look by changing your shoes or adding accessories.
If you're wondering how to wear a maxi dress or looking for ways to accessorize a maxi dress on an upcoming trip, here are some of my favorite ways to style maxi dresses on vacation and throughout the year.
How to Wear a Maxi Dress on Vacation
A maxi dress is a great option for vacation and can be a great way to look stylish and feel comfortable. Here are some tips for getting the most out of your maxi dress on vacation:
Choose a dress with lightweight fabrics like cotton or linen to keep you cool in hot weather.
Get a dress with thin or adjustable straps or an open back for added ventilation.
Bring a light jacket or shawl to keep warm on cool evenings.
Wear sunscreen and a hat to protect your skin from the sun.
Whether you're hanging out in the day, or night, or enjoying a special occasion like a destination wedding, birthday, or anniversary dinner, here are some of my favorite ways to wear a maxi dress on vacation:
Pool or Beach Cover-Up
A maxi can be the perfect cover-up over a bathing suit at the beach or the pool. They can quickly be taken off or put on and you can wear them as a beach dress when going out to eat or walking through the hotel lobby.
Exploring the City
Pairing your maxi dress with a cute pair of sandals or sneakers is perfect for doing different activities while exploring a destination. Add a shawl or light jacket to keep warm in air-conditioned buses and buildings while on tours, or on cool evenings and a floppy hat or a pair of sunglasses to as shade from the sun.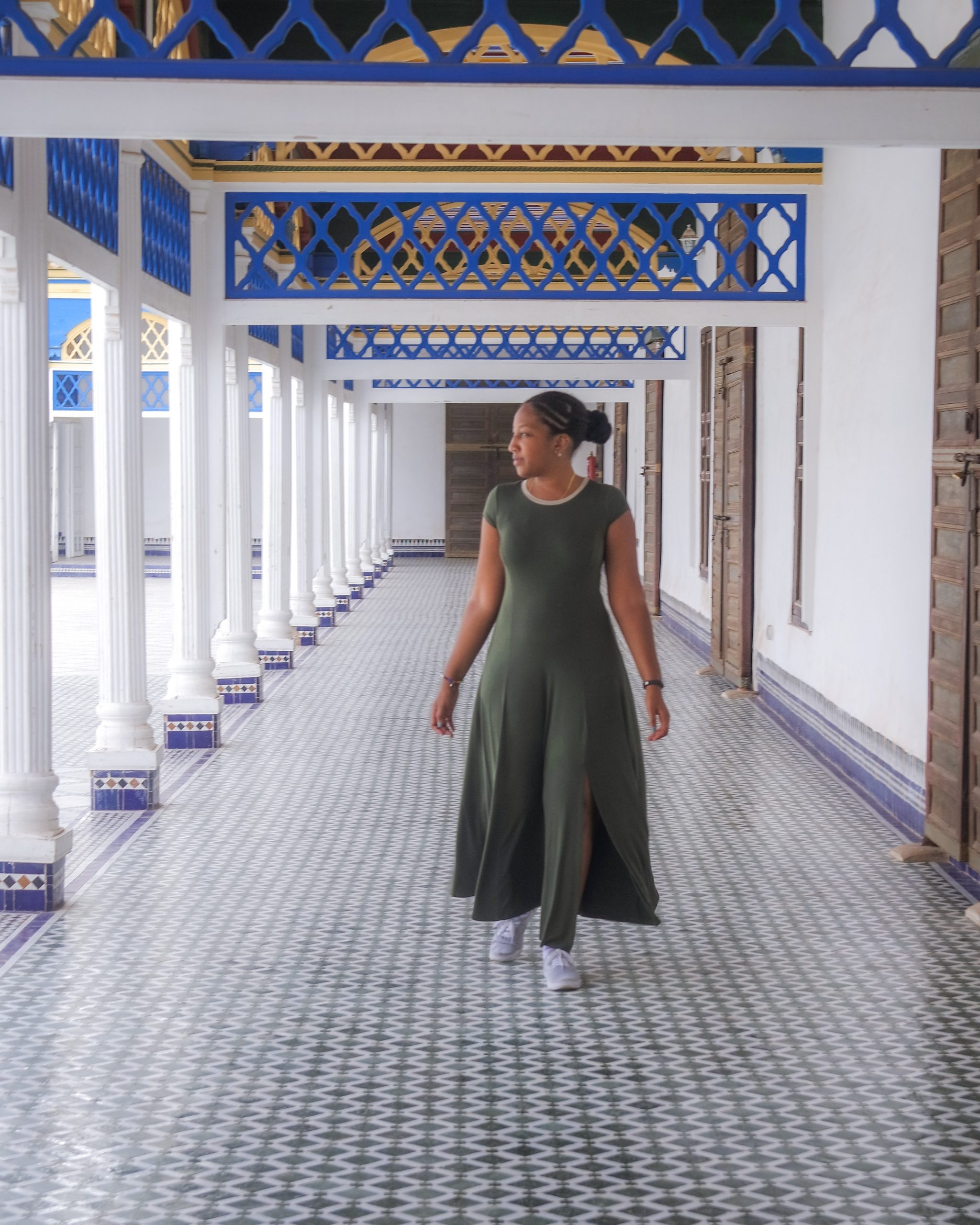 Enjoying the Nightlife
Swap your sandals for a pair of strappy heels and a maxi can be the perfect dress for a vacation dinner look. Adding a jacket or changing up your jewelry completely transforms your look from day to night. If you want to show off your arms, opt for a sleeveless style.
How to Style a Maxi Dress Year-Round
A great thing about maxi dresses are they extremely versatile. Not only can they be used as cute vacation dresses, but maxis are also great to use as a transitional piece for cooler weather.
To start, choose a dress that fits your body type. If you have a petite frame, look for a dress with a high waistline and cinched detailing, like an empire waist, to create curves and add length. For a more dramatic look, choose a dress with a deep v-neck, open back, or a thigh-high slit.
Wear the Right Footwear
When going on vacation, I typically pack 2-3 pairs of shoes for the day and night. Heels will make your maxi dress look more dressy for date night while flats or sandals will give it a more casual look.
Tie a Button-Down
Transform your maxi dress from summer to fall by wearing a button-down shirt.
Accessorize
Accessorize your maxi dress with a hat, wide belt, or a patterned scarf. If you like to wear jewelry on vacation, bring some for both casual and formal looks.
Add a Cardigan or Sweater
Add layers to your maxi dress for the fall or winter by adding a cardigan or sweater for a comfy/cozy look. Pair with over-the-knee boots or booties over skinny jeans or leggings for a layered look.
Style with a Denim Jacket
Whether it is classic denim or cropped maxi dresses and denim jackets go hand in hand for a cute and casual look.
Add a Blazer
To dress your maxi up for the office or give it a more structured look, you can top off your maxi dress with a blazer.
Wear a Moto Jacket
Wear a maxi with moto leather or a faux leather jacket with black ankle booties for a cute street-style look.
Turn Your Maxi Dress into a Skirt
Another way to maximize the use of a maxi dress for long-term travel, a summer vacation, hot summer days, fall, or winter is by wearing it as a maxi skirt. Style it with a belt, tube top, tank tops, crop top, turtle neck, or sweater for different looks.
As you can see, the maxi dress is truly one of the most versatile pieces for your vacation wardrobe. Hopefully, these outfit ideas and tips on how to wear a maxi dress on vacation will help you look your best while wearing a maxi dress on your next warm-weather getaway.
Have fun experimenting with bright colors, fun patterns, and different prints to create a look that is sure to turn heads!
Read More Beauty and Style Tips
Comfy Chic at Essence Street Style Block Party
How to Take Care of Natural Hair on Vacation
Cute Ways to Style a Tulle Skirt
What are your favorite ways to wear a maxi dress?