After my experience at Atlanta Carnival earlier this year, I decided to give Miami Broward Carnival a try.
If you weren't aware, Miami Carnival is an annual event hosted by the city of Miami. It is a Caribbean style carnival, similar to that of Trinidad and Tobago, and is held in early October.
I've traveled to Miami for Miami carnival weekend several times, but this was my first time participating in official events and fetes.
If you've been thinking about attending Miami Carnival in the future today I'm sharing my full Miami Carnival 2022 recap from the perspective of a first-timer and some tips for attending Miami Carnival 2023.
Band Launch and Registration
When the time for band launch came in June, it was tough for me to choose because EVERY costume I saw was just beautiful. I considered playing with Miami Carnival's 2022 Band of the Year winner Ramajay, GenX Carnival, and Wassiones, but ultimately went with Revel Nation after researching the Masquerade band's costume quality and customer service.
Revel Nation launched their theme "Lost Treasures" and I immediately fell in love with Florentine Diamond designed by Trinidadian designer Humzee.
I registered for the frontline option with a wire bra and medium backpack and paid everything upfront. Revel Nation also had the option to make a downpayment and pay before 9/16 or in cash during costume pickup.
Costume Pick Up
A week before my flight to Miami, Revel Nation announced costume distribution would be on Wednesday, October 5-Friday, October 7 in Fort Lauderdale. I picked up three carnival costumes on Friday afternoon: one for myself, one for my cousin, and the last for a friend.
On arrival, we were directed to sign in, sign a release form, and went into a waiting room with chairs and music. It took THREE HOURS to get all the costumes and backpacks in my hands. This was after paying the remaining balances which took no more than 10 minutes.
The longest wait was for a rep to pack the bag for Treasures of Nimrud and I honestly felt that should've already been done knowing pickup for that section was on that day.
Everyone in that specific section seemed to have the same issue and it was frustrating since I had other plans, but the costume quality kind of made up for the frustration. In addition to getting the costumes, I also purchased a pair of fishnet stockings.
Before leaving, I made sure to go through each piece of the costume from the headband to the lower leg bands to make sure everything was received.
*Pro tip* Make sure your costume fits before leaving the mas camp or distribution center. If there are any issues, you can get them fixed.
I also received instructions on how to tie my wire bra and a reference guide sharing how to get to the Miami-Dade County Fairgrounds and shuttle service. Inside the bags were our drink mugs, wristbands, foldable nylon fan, and towel.
Miami Carnival 2022 Fetes
After working remotely most of the day and picking up costumes all afternoon on Carnival Friday, it was time to fete. I went to Tipsy Miami, an all-white affair presented by Twisted Entertainment and GenX Carnival at Bayfront Park in Downtown Miami.
Headliners included Burna Boy and Machel Montano so I purchased VIP tickets, but I didn't think I received much of a VIP experience. In addition to it being crowded, I wasn't even able to purchase drinks.
I arrived at Tipsy at around 9:30 PM and entry was almost seamless. I caught the tail end of Machel's set also seeing Farmer Nappy, Problem Child, and Voice perform. It was also my first time seeing DJ Puffy who played a mix of early 2000s dancehall and soca music.
The crowd didn't seem very interested in Noah Powa and Teejay's performances but everyone seemed to come alive when Kes and Shaggy came out to perform their latest single "Mood".
Seeing Burna Boy perform for the first time was great. The band and background singers were very entertaining, but again, the crowd only seemed to have a positive reaction when they heard one of his popular songs like "It's Plenty" and "Last Last".
In fact, there were several people having side conversations in my section during the performance which made me question why they even stayed. I still enjoyed myself and it had me excited to see Burna Boy perform in Tobago.
I got some food at the end of the event and went back to my hotel to get ready for J'ouvert on Saturday morning. Miami hosts j'ouvert and other official events on the fairgrounds and you would need to be part of a j'ouvert band or purchase a ticket to participate.
I had the leftovers of my food from hours before, took an uber to the fairgrounds, picked up my media pass, and met my cousin and friends who participated in the new J'ouvert Jam Zone at around 11 AM.
J'ouvert is always my favorite event during carnival and was pure vibes in Miami. At entry, everyone received complimentary shots and our crew went from truck to truck following the music.
We heard a good mix of soca from various islands and I was able to get some drinks from a friend playing with Red Ants.
After j'ouvert, we went for some food at Caribbean Delite. I don't know if it was because I was tipsy, hungry, or both, but the doubles I had was everything. I got a ride back to my hotel and handed off the costumes before taking a much-needed shower and nap.
I then made a quick trip to CVS to buy some toiletry items and last-minute essentials like pasties and Redbull because I was TIAD. Our crew met up again around 1:30 AM for One Fete hosted by Barrie Hype on the fairgrounds and saw live performances by Patrice Roberts, Skinny Fabulous, and Kes. I love a live band so I was happy I pushed myself to go out instead of sleeping in.
Miami Carnival Parade of Bands Road Experience
On Carnival Day, I started getting ready for the parade which is the main event of the carnival at around 11 AM, applied my makeup, put on my costume, and made sure I had my wristbands, phone, portable charger, camera, drink cup, and other necessities before leaving, and drove 30 minutes to Miami Dade Fair Grounds. There was a lot of traffic getting to the entrance so I opted to get out and walk.
Once I located the band, I walked over to the snack truck for a patty and a few minutes later, it started to pour. I found myself standing under a tarp over the truck along with several other masqueraders to stay dry, I would be lying if I said this didn't mess up my mood, but once they started handing out drinks and playing soca music, I felt much better.
The music trucks started moving at around 3:30/4 PM and the security for Revel Nation did a great job of safely directing the crowd. At one point water and drinks ran out and we were told more would come, but I just found something along the parade route.
What drove me was the music and everyone's energy despite the rain. I loved it because it was the experience that I wanted in Atlanta earlier this year.
After crossing the main stage section by section, we met up and found the food truck. My meal chit was long gone by then, but I picked up a stewed chicken meal before heading back to the car and back to the hotel.
For my first official Miami carnival, I had an amazing time and it made me excited for Tobago Carnival later this month.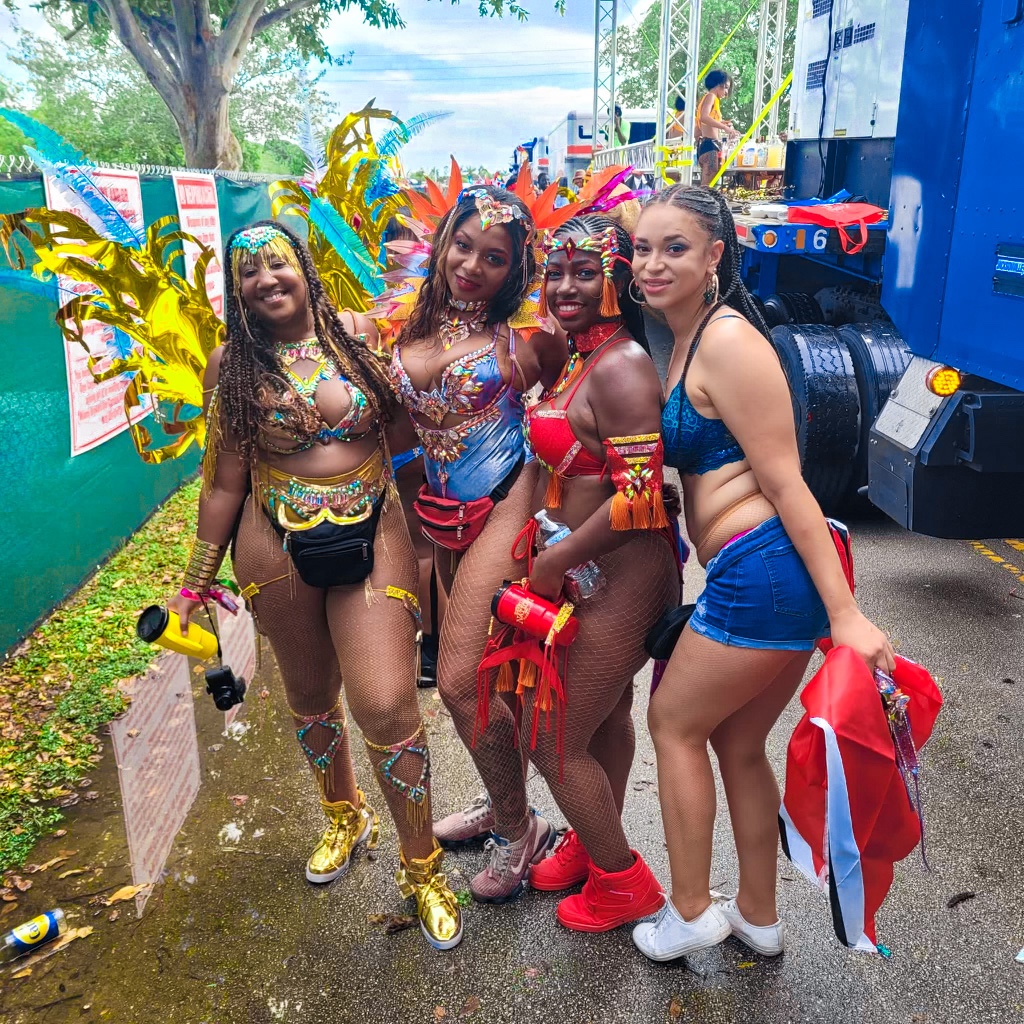 Tips for Attending Miami Carnival 2023
If you've been thinking about attending Miami Carnival, be prepared for next year. Here is some information for Miami Carnival 2023 including important dates, where to stay, and estimated costs.
When is Miami Carnival 2023?
Miami is usually held on Columbus Day Weekend or the second weekend in October with the Junior Carnival being the week before at the Central Broward Regional Park.
Miami Carnival 2023 Official Events Schedule
Jr. Carnival (Central Broward Regional Park) – Saturday, September 30
Panorama (Central Broward Regional Park) – Friday, October 6
J'ouvert (Miami-Dade County Fairgrounds) – Saturday, October 7
Carnival Parade and Concert (Miami-Dade County Fairgrounds)- Sunday, October 8
Where to Stay During Miami Carnival
I stayed at the Hilton Cabana in Miami Beach which was about a 30-40 minute drive from the fairgrounds. If you're looking to stay closer to where the fetes are, I suggest staying in Brickell, Wynwood, or the South Beach area.
Below are some hotel suggestions. You can also click the interactive map, enter your travel dates, and filter price ranges to find the best lodging options that match your budget.
EB Miami
East Miami
Esme Hotel
Catalina Hotel
Lowes Miami
Kayak Hotel
Pullman Miami Airport
Estimated Costs
You can easily spend $1800-2000 USD for Miami Carnival depending on your costume, how many fetes you wish to attend, and where you are flying from. This does not include spending money for food, things to do in Miami other than the Carnival, transportation, or emergencies.
Flight (From New York) – $250+
Hotel – $500-700+
Fetes/J'ouvert – $400+
Transportation – $50+/day for car rental or $25+/day for Uber/Lyft
Costume – $600+ (backline and it depends on which band you choose).
Overall Experience
Again, I had a great time and would absolutely play mas and fete for Miami carnival again in the future. The only thing I would change is being more strategic with what fetes I planned to go to. I enjoyed the ones I went to, but I feel I could've squeezed some more in and purchased beforehand rather than last minute.
You May Also Like
Quick and Easy Carnival Makeup Inspiration for the Road
Experience Bahamian Culture at Bahamas Junkanoo Carnival
The Ultimate Trinidad Carnival Packing List
Did you make it to Miami Carnival 2022? What was your experience?