I received complimentary tours while visiting Corning, NY and the Southern Finger Lakes Region for the TBEX conference. All opinions expressed are my own.
I really love New York City, but every once in a while it is nice to swap the big city for a small town. One of the best things about living in New York State is to enjoy the beaches, busy city, and the great outdoors in roughly the same week.
In hopes to network with other creatives and discovering more of NY State, last month I attended my first TBEX conference in Corning and the Finger Lakes New York. I wasn't really familiar with Corning or the Southern Finger Lakes Region, but once I visited I fell in love! If you're looking for a great place to visit for your next solo or family trip in Upstate New York, here's a quick Corning, NY travel guide.
Where is Corning NY?
Located in Central New York, Corning is also called America's Crystal City. Corning is known for manufacturing glass works and ceramic products for home, scientific and technical uses since 1918. Travel time is about 45 min direct from NYC's major airports via Delta or United Airlines to Corning/Elmira Regional Airport.
You can also take a longer, scenic route by driving, Amtrak, or coach bus. I planned to travel via bus, but found a flight from Newark for the same price and booked the latter. You can also click here to see approximate travel times from major cities on the east coast to Corning.
Getting Around Corning, NY
The best way to get around Corning and the Finger Lakes New York is via car. If you don't drive, public transportation, private taxis, and LYFT are available, but prices add up over time. For my tips on staying hydrated while traveling campaign, I traveled to the nearest Target about 15 minutes away and spent over $30 in cab fare one way!
As a city girl, I rely mostly on public transportation and occasional rideshare services, but the demand is not high in Corning as in major cities. An option for getting around while visiting Corning, NY is the free shuttle from the Corning Museum of Glass Welcome Center. Park at the welcome center parking lot for free and take the shuttle to the Corning Museum of Glass and other places in the Gaffer District and surrounding areas.
Places to Stay in Corning, NY
There are a lot of great places to stay in Corning and the Southern Finger Lakes whether you choose a hotel, Airbnb, or other alternative vacation rentals. If you travel to Corning via coach bus, the Radisson Hotel is close to the bus station and offers a Chocolate Trail package in the nearby Gaffer District. I stayed at the Staybridge Suites which was a short walk from the Welcome Center Shuttle and a 10-minute walk from the Corning Museum of Glass where the TBEX Conference was held.
The Staybridge Suites provided breakfast every morning, an indoor pool, fitness, and business centers as well as FREE wine tastings during the week. I also had friends that enjoyed their stays at nearby Bed & Breakfasts, Courtyard Marriott, and Hilton Garden Inn.
Things to Do in Corning NY
Corning is a fairly small city, but there are a lot of activities to do for all types of travelers. Here are some of the top things to do when visiting Corning NY and surrounding areas in the Southern Finger Lakes.
The Corning Museum of Glass is the world's largest museum dedicated to the art, science, and history of glass. The Corning Museum of Glass opened in 1951 and has 5 different galleries. The museum hosts glassmaking demos throughout the day and guests get to have their own glass experience by making a glass piece as a souvenir. If you're visiting Corning, NY with family, admission for kids and teens is free.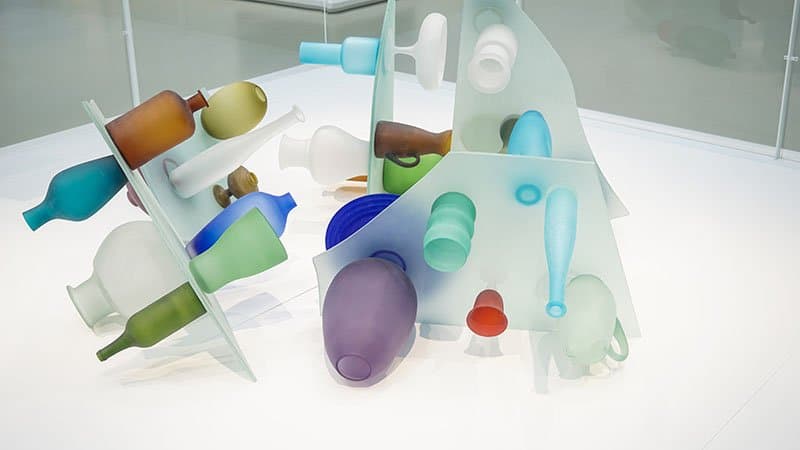 Not to be confused with the author and illustrator Norman Rockwell, the Rockwell Museum of Western Art is located in Corning's old City Hall and is home to Bob and Hertha Rockwell's collection of art and firearms showcasing Art in the American Experience.
The Rockwell family owned a department store on Corning's historic Market Street and displayed many works of art in their store. Once primarily showcasing western art and art from a white male perspective, the Rockwell Museum now showcases more female and minority artists in the galleries. There is also a section for Native American Art in the museum.
Corning's Gaffer District is in downtown Corning and is the best place to be for fun. Named one of the top shopping destinations in New York State, the Gaffer District is also known for festivals and special events. There are a lot of antique shops and it is the perfect place to find unique gifts for friends and family.
After the flood in 1972 from Hurricane Agnes, the funding helped revamp the historic district. The Market Street Restoration Plan even became a model for renewing historic districts across America where small businesses thrive. The Gaffer district offers self-guided Buildings Alive! Historic & Architectural Walking Tour showcasing the architecture and stories of different buildings and local shops in the area.
Things to do Near Corning, NY
Visit the Wineries
You can't visit Corning and Southern Finger Lakes region without taking a trip to the wineries for great wine and breweries for craft beers. Finger Lakes Wine Country is the home to three wine trails: the Cayuga Lake Wine Trail, Keuka Lake Wine Trail, and the Seneca Lake Wine Trail which is the largest and closest wine region to Corning, NY. Click here for a list of member wineries and a full map of the Seneca Lake wine trail.
Speed Racing at The Glen
The Glen started on the streets of Watkins Glen, NY in 1948. For racing fans, visit Watkins Glen International Speedway in the Spring through mid-fall. The Glen is known as the Mecca of North American road racing. Watkins Glen International Speedway is also a concert venue and hosts the Finger Lakes Wine Festival every Summer. I had the pleasure of visiting at the TBEX opening night party and taking a ride on the track after our trip to the wineries
Watkins Glen State Park
For nature lovers, Watkins Glen State Park hosts trails for hiking, camping grounds, fishing, and swimming. The park is home to 19 waterfalls! In 2015 Watkins Glen State Park placed third for USA Today's Best State Park in the United States Reader's Choice poll.
These are just some activities I was able to participate in during roughly 6 days of visiting Corning, NY, and the Southern Finger Lakes Region. I hope this Corning, NY travel guide inspired you to explore more of New York outside the city. For more things to do in Corning and the Southern Finger Lakes New York, visit their official site.
Before you go, check out these great posts!
Best Restaurants in Corning, NY
Wine Tasting on the Seneca Lake Wine Trail
Summer Weekend in Lake George, NY
Have you visited the city of Corning or the Southern Finger Lakes Region in New York State?