I always find myself in the water on vacation whether it be going to the beach, relaxing in the pool, exploring the ocean via a submersible scooter, taking a glass-bottom boat tour, or sailing on a catamaran. When planning our girls weekend in Montego Bay, I just HAD to add a water activity.
Bamboo Rafting on the Martha Brae was exactly what we needed. If you're planning a trip to Montego Bay or looking for a cruise stop excursion, read more about our experience Bamboo Rafting on the Martha Brae River in Falmouth, Jamaica.
Martha Brae River Facts + About the Martha Brae Rafter's Village
Bamboo Rafting on the Martha Brae is the #1 rafting attraction on the island of Jamaica. The Martha Brae Rafter's Village is located about 20 miles from Montego Bay in Falmouth, part of the Trelawny Parish. During the plantation era, Bamboo rafts were used to float sugar and other crops to the harbor before being loaded on ships headed to Europe.
Traveling to the Martha Brae Rafting Village from Montego Bay
Since we're somewhat "spur of the moment travelers" and sometimes travel on a budget, we searched online to see how much rafting on the Martha Brae would cost. The best option we saw for our last-minute planning was via Jamaica Rafting. The Martha Brae rafting cost at the time was $65 which included roundtrip transportation, welcome drinks, and the three-mile raft ride on the Martha Brae River.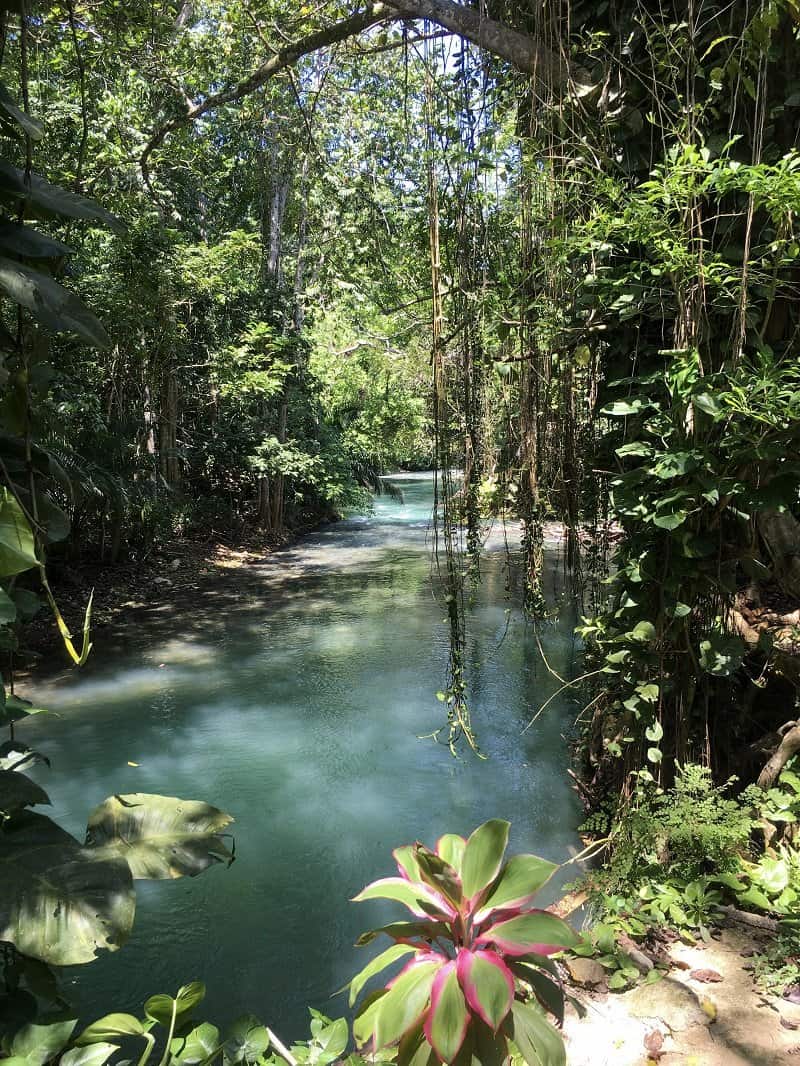 Bamboo Rafting on the Martha Brae River
Before embarking on the tour, we were greeted with a welcome fruit punch and walked through "Miss Martha's Herb Garden" which included many plants and herbs used for medicinal and healing properties. After getting our drinks we walked over to meet our raft captain Danny. In addition to enjoying the scenery and pointing out various fruit trees along the ride, Danny shared historical information about the area and island as a whole including the Legend of Martha Brae.
The Legend of Martha Brae
The Legend of Martha Brae is the story of a Taino "witch" who was tortured by Spanish settlers looking for gold. Pretending to share the location of the gold, she instead led the settlers into a cave, disappeared, and changed the course of the river.
Bamboo rafting on the Martha Brae was one of the most relaxing experiences I've ever had. On my next trip to Jamaica, I hope to visit Port Antonio for rafting on the Rio Grande.
Read More Caribbean Travel Guides
Don't Forget the Islands! How to Help Hurricane Victims in the Caribbean
Puerto Plata Outback Safari with Outback Adventures
5 Things I Can't Wait to do In Curacao
Pin for Future Reference
Have you gone bamboo rafting in Jamaica before?