This post "Puerto Plata Outback Safari with Outback Adventures" is not sponsored, but contain some affiliate links. For more information on the sponsored post and/or affiliate link policy, please click here.
The first excursion for my vacation in Puerto Plata was a full day Outback Safari by Outback Adventures. The tour included a ride to Puerto Plata's countryside, visiting a middle-class Dominican home, backyard plantation, a Dominican primary school, lunch, and recreational time at the beach and river. There was also unlimited rum, soft drinks, and water, taking advantage of the water and soft drinks since feeling sick after leaving the resort.
| | |
| --- | --- |
| | Cultural Outback Safari from Puerto Plata with Lunch – $79.00 Have a fun-filled full day of discovery and adventure on the northern coast of the Dominican Republic. The day will include viewing the beautiful countryside, a fresh water pool swim, music, learning Dominican history, meeting locals, and enjoying lunch and drinks. Bring comfortable clothes, walking shoes, and a swimming suit for this jam-packed day exploring the Caribbean. |
Visiting a Traditional Dominican Home & School
Description and view of the Dominican home reminded me of a typical middle-class Caribbean house. It had a small living and dining room with one or two bedrooms housing 5-6 people with a separate shower and bathroom outside. Behind the house, we explored the plantation and had the ability to taste the coffee and chocolate harvested on site.
There were a bunch of kids in the house yard for it being late morning/early afternoon and I wondered if they went to school. The tour guide explained that some children don't have the opportunity because uniform and book expenses are too much. Our second stop was to a K-8 grade school with classes held in two segments: 8AM-12PM and 1-4PM. We walked into a class with the chalkboard split in half to teach 7th and 8th-grade students, slightly similar to my own 6th-grade class shared with 8-10 5th graders.
Eating Lunch with Outback Adventures
Lunch included fried chicken, white rice and a pinto bean sauce with optional salad and fruit; reminding me of the food served at the Dominican restaurant by my house. After eating, we were given the opportunity to purchase the chocolate and coffee packaged at the plantation, liquor, wine, mamajuana, art and handmade jewelry in the "Rum Shack".
Swimming in the River and Beach
We spent some recreational time at a local river and the beach. There was an option to take a dip in the river, but I didn't want to take the chance with my intermediate swimming skills. I did plunge into the open sea at the beach. (I was NOT coming to DR and not go in the water). The tour with Outback Adventures included boogie boards for everyone to ride the waves; for my first time, it was exceptionally fun. I even forgot I was feeling sick just a few hours before.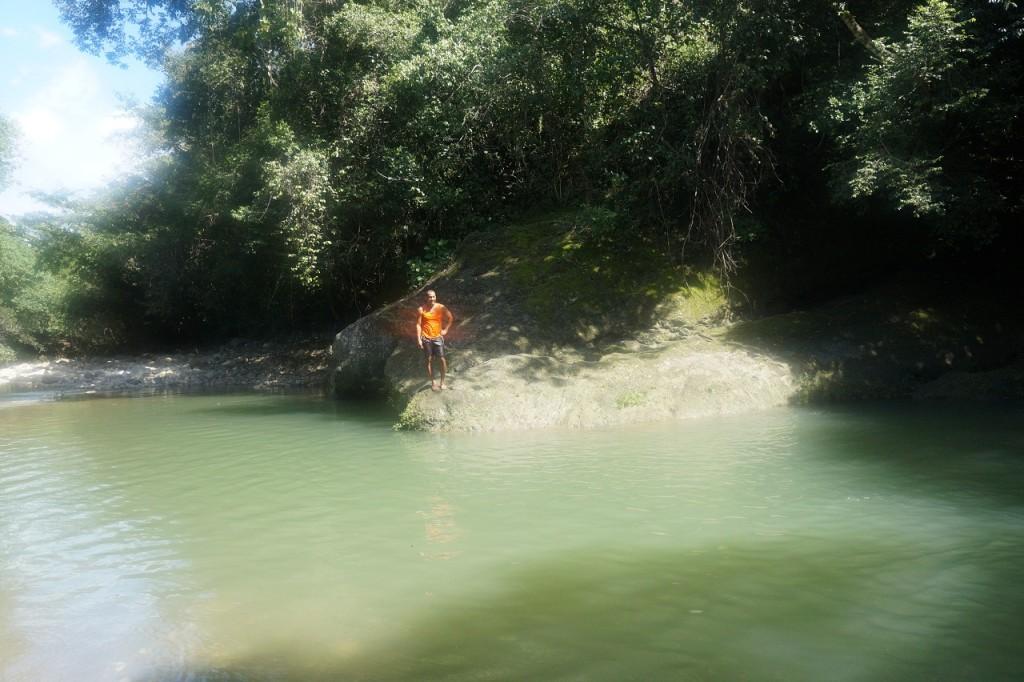 The overall day was fun. Our tour guide Jr was funny and very sweet. (After seeing that I wasn't feeling well, he grabbed a mini lime from the backyard plantation to aide in settling my stomach). I only wish more animals were involved to live up to the name "outback safari", but I still had a good time. It was also kid friendly. In between stops, we were given mini history lessons about the island, animals and "wild" plantation. Our driver, Jose even got out of the truck to cut a piece of sugar cane for us to taste.
Check out my video showing some highlights of the Outback Safari with Outback Adventures
What have been some of your favorite tours abroad?