I received the Pixi Beauty Rose Infused Skintreats collection for my review. All opinions are my own.
I have some time before my girl's trip to Iceland, but Pixi Beauty must have known because they sent me a personalized travel toiletry bag filled with all of the items in their Rose Infused Skintreats collection.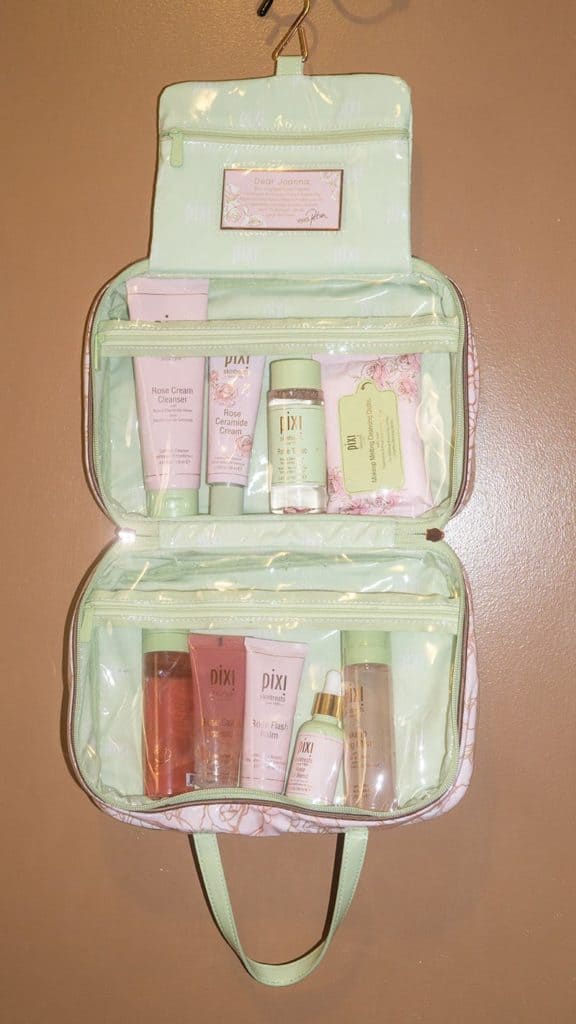 Pixi Beauty skincare brand has been around for over 20 years and has a mission to bring out the natural beauty in all women. The Bon Voyage Rose Infused Skintreats collection is perfect for women like me who are always on-the-go. I don't wear much makeup on vacation, but I do keep up with my skincare routine during and after my trips. If you're interested in learning more about my experience with these Pixi skincare products, here are the items included in the Pixi Beauty Rose Infused Skintreats collection:
Makeup Melting Cleansing Cloths – This mini pack of makeup cleansing cloths is formulated to remove all traces of makeup. even ones that are waterproof. The main ingredients include chamomile, Rose and they can be used at any time.
Rose Cream Cleanser – Formulated with rose, avocado, chamomile, and aloe vera, the Rose Cream Cleanser cleanses, strengthens & softens skin.
Rose Tonic – If you're a fan of the Pixi Beauty Glow Tonic, you will love the Rose Tonic nourishing toner. It has Rose & Elderflower as the main ingredients and works well on sensitive skin. The best part is this can be used in your daily morning skincare routine or at night before bed.
Rose Caviar Essence. Containing rose and grape seed oil, anise extract, and mulberry extract, the Rose Caviar Essence serum is weightless and formulated to melt into your skin. I know grapeseed oil to be sticky, but when using the Caviar Essence in my nighttime skincare routine, I didn't feel sticky or oily at all.
Rose Flash Balm – I love beauty products that have more than one use and the Rose Flash Balm has 3. You can use it as a moisturizer, primer, or a face mask. If you have dull or fatigued skin, it helps your skin look more radiant.
Rose Ceramide Cream – The Pixi Rose Ceramide Cream is a moisturizer that nourishes and restores skin. Like the Curel Wetskin Moisturizer, the Rose Ceramide Cream contains ceramide NP which adds hydration and seals moisture on dry and dehydrated.
Rose Oil Blend – I don't know why I wasn't using this before, but I love the Rose Oil Blend. This product helps the skin look young and helps nourish and strengthen. I use 2 to 3 drops daily in my morning and nighttime routines. If it is extremely cold in the mornings, I mix it with my moisturizer for extra hydration. After applying the toner and Caviar Essence at night to nourish and soften my skin.
Makeup Fixing Mist – To set my makeup, I use the Makeup Fixing Mist. This setting spray has rose water and green tea and helps prevent makeup from melting. If I'm attending an event, I use it as a beauty essential for the office to freshen up my look after a long workday.
Rose Glow Mist. The Rose Glow Mist is a dual phased elixir equipped with essential fatty acids and antioxidants. It also gives your skin a natural glow while keeping it moisturized. Like the Makeup Fixing Mist, you can use the Rose Glow Mist before or after wearing makeup or at any time of the day. This is a great product to bring along for long haul flights.
I really love the travel bag and have already used it on my weekend ski trip. With an exception of the Pixi Rose Cream Cleanser, all of the Pixi Rose Infused products are travel-sized so they can easily be packed in my carry-on or travel backpack. You can find these travel beauty items from the Pixi Beauty Rose Infused Skintreats Collection in Target or Pixi's official website or shop the collection below.
Read More Skincare Reviews
Summer Skincare Routine with Pixi Vitamin C Collection
My Fall Skincare Routine + E.L.F. Skincare Review
My 10-Minute Morning Skincare Routine with Fenty Skin

Have you used any items in the Pixi Beauty Rose Infused Skintreats Collection?