Before and after our trip to Iceland, one of the first things almost everyone that knows or follows me asked was if I'm going or if I went to The Blue Lagoon. After an almost 6-hour flight, spending what seemed like forever in the car rental office, showering, having lunch, and a quick nap, visiting the Blue Lagoon was the first activity on our group trip to Iceland.
If you're planning a trip to Iceland and want to visit the Blue Lagoon, read about my Blue Lagoon experience, including things to do while visiting, and if it is worth spending your money on.
Blue Lagoon Iceland Facts
Iceland's Blue Lagoon is one of Iceland's most popular tourist attractions. Although Iceland has many natural hot water springs, Blue Lagoon Iceland is a man-made geothermal spa by a nearby geothermal power plant. The warm water is rich in minerals like silica and sulfur and water temperature in the bathing and swimming area averages 37–39 °C (99–102 °F). The Blue Lagoon also operates a research and development facility to help find cures for skin diseases and ailments like psoriasis.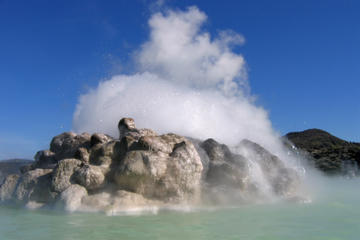 Reykjavik Shore Excursion: Blue Lagoon Spa with Round-trip Transport
Important Things to Know When Visiting the Blue Lagoon
Visiting with Children The Blue Lagoon caters to visitors 2 and up. If you travel to Iceland with kids between 2-13, admission is free. There is a two-child-under-10 limit per adult and children ages 2-8 are required to wear floaties.
Wristbands The wristbands given to visitors of the Blue Lagon upon arrival have many uses. DO NOT LOSE IT! It is a key for the changing room lockers as well as a "credit card" in the spa area. If you are purchasing drinks or snacks in the spa area, your wristband will be scanned and you will be charged any fees upon departure.
Changing Rooms & Showers Changing rooms, lockers, and a shower area is provided on-site. Lockers are to store all valuables including jewelry, cameras, clothing, and shoes. Before leaving the locker room, make sure it is locked properly.
Haircare The silica in the water causes your hair to be stiff. Apply a conditioner to coat your hair before getting in. The Blue Lagoon provides complimentary conditioner, but you can also bring along your staple hair products.
Stay Hydrated As mentioned, temperatures in the Blue Lagoon can be extremely hot. Make sure to drink plenty of water to stay hydrated. Save some money and drink the water from the fountains instead of buying from the cafes. Iceland's tap water is totally safe to drink and refreshing.
Glasses & Contacts If you wear prescription glasses, do not submerge them in the water because the high silica content can damage the lenses. It is also recommended to take off contact lenses due to salt and other minerals irritating your eyes.
Best Time to Visit the Blue Lagoon Iceland
The Blue Lagoon is located 20 minutes from Keflavik Airport and 50 minutes from Reykjavík. Due to its closeness to the airport, I suggest having it be your first stop after landing (or your first excursion) or visiting your last day, a few hours before departure.
There are hourly Blue Lagoon Tours departing from Keflavík International Airport and Reykjavík, so if you're worried about transportation, a roundtrip shuttle bus is available for about $45 and can be booked with your Blue Lagoon tickets.
Packages to the Blue Lagoon Iceland
Pre-booking is required for visitors to the Blue Lagoon via their website. You can also arrange a visit through a tour. When booking your Blue Lagoon reservations online, you need to pick your time slot and one of the three packages for entry.
Admission for the Blue Lagoon at the time of my visit started at $58 and there were additional fees for massages, transportation, extra drinks at the bar, and other items. Below are the different packages available, the Blue Lagoon entrance fee, and what is included with each package:
Comfort Ticket – ($58) Entry, Silica mud mask, towel, and drink.
Premium Ticket – ($82) Entry, Silica mud mask, towel, drink, a second mask of choice, robe, and slippers (We booked two months in advance and paid $127 with taxes and fees).
Luxury Retreat Ticket – ($652) – Four hours at The Retreat Spa, private changing suite, and unlimited access to the Retreat Lagoon and the Blue Lagoon.

What to Take to the Blue Lagoon Iceland
Below is a list of what to take and what to wear at the Blue Lagoon.
Bathing Suit – You'll be in a heated pool. Swimsuits are required.
Water shoes – Water shoes aren't necessary and the grounds of the pool aren't rocky, but if purchase the Comfort Package, buy some water shoes with non-slip soles.
Hair tie – If you have long hair, bring a hair tie and put it up in a bun to help avoid the silica minerals from drying out your hair.
Lotion & Moisturizer – To apply after taking a shower. You don't want to be out there looking ashy.
Deodorant – To apply before leaving the Blue Lagoon.
Camera – Don't forget to bring your camera or smartphone to take pictures. Bringing a waterproof camera is a bonus.
Something to carry wet clothes – Bring along a plastic bag to put your wet clothes in when you're done.
Waterproof phone pouch – To capture pictures in the Lagoon with your phone, get a waterproof phone pouch.
What to do in Blue Lagoon Iceland
Get Silica and Algae Face Masks – The silica masks come with the packages and algae masks can be the additional mask if you purchase the Premium Package.
Enjoy the Sauna and Steam Room – One of my favorite parts of a spa day. If you're unaware of their benefits, read my post.
Have a Drink by the Swim-Up Bar – There is a three-drink maximum at the Lagoon swim-up bar for hydration purposes. Tickets included a complimentary drink of your choice including smoothies, juices ciders, wine, and sparkling wine.
Get an in-water Massage – Massages are done with you floating on the water and an add-on to your package
Soooo…is the Blue Lagoon Worth It?
After my visit to the Blue Lagoon Iceland, everyone wanted to know if the Blue Lagoon was worth visiting. Honestly, I will say yes and no. If you are a "do it for the 'gram" traveler, it's worth the pics and videos.
Social media is one of the reasons this place is so popular in the first place. I also believe that not visiting the Blue Lagoon Iceland is like traveling to Bali and not going to the Bali Swing; it is nice, but not necessary and will not make or break your experience in Iceland.
We visited in the winter on a weekday afternoon so there weren't a lot of people, but depending on the season, the Blue Lagoon can become very crowded. Even though the price is standard or even less compared to spa prices in NYC, I could've visited one of Iceland's natural thermal pools for a lot less.
Read More European Travel Guides
A First-Timer's Guide to Visiting London in 4 Days
8 Places to Visit in Paris in 2 Days
What to Pack for Europe in the Winter
Have you visited the Blue Lagoon Iceland?