It's been less than a year since our girls trip to Bali and I'm already going back. My cousin and I found a great flight deal on Singapore Airlines a few days ago and we're planning a week-long luxurious girl's trip next spring. Other than planning a spa day (or two), I mentioned visiting the Ubud Bali Swing. The Bali Swing is the most famous swing in Bali. It is the perfect place for beautiful views and taking great travel pictures.
If you're planning a trip to Bali, here's a guide to everything you need to know about visiting Bali Swing Ubud including the best time to visit, location, prices, safety information, and my experience of the Bali Swing.
About The Bali Swing
Bali Swing is a local Balinese company providing personal or group tours and unforgettable experiences around Bali, Indonesia. Bali Swing Ubud is one of the top attractions in Bali, Indonesia, and rated as the Best Swing in Asia and one of the best places in Bali for Instagram photos. Visitors must be 5 years and up to participate in the Ubud swing and activities. There is also a weight limit 200kg (around 440 lbs) for each swing.
How to get to Bali Swing Ubud + Location
Now that you have a little bit of information about the Bali Swing, you need to know how to get there. Below is the location, telephone number and how to get to the Bali Swing.
Bali Swing Location
Address – Jl. Dewi Saraswati No.7, Bongkasa Pertiwi, Abiansemal, Kabupaten Badung, Bali 80352, Indonesia.
Phone Number – +62 878-8828-8832
Getting to the Bali Swing
Free Shuttle – There is a free shuttle bus to Bali Swing Ubud available at the Ubud Center
Taxi – Taxis in Ubud are easy to get, but it may be expensive if you're not in a group.
Scooter Rental – If you're adventurous (and comfortable driving), you can rent a scooter for as low as $5/day to get around Ubud and go to the Ubud Swing.
Ubud Bali Swing Price
The Bali Swing cost varies on the type of package you purchase. We chose the Bali Swing Active Package which included the entrance fee, lunch buffet, drinks (coffee, tea, water), and access to the different types of swings and giant bird's nest.
Come alone or no camera? No problem! They can take great photos of you by the swing or bird nest area and send them instantly via AirDrop or USB at an extra cost. A plus for visiting the Bali Swing is they accept cash and credit cards.
Here's more information about what is included in the Active Package* at the time of our trip: 15 single swings (from 10m to 78m above the ground), 3 tandem swings, 9 cute nests, photo shooting points: helicopter, "lost jungle boat", the romantic bed on the edge, the heart rock in the jungle and 4 huge stones over the edge above the valley.
35 USD / IDR 500K – without transportation or free shuttle from Ubud
40 USD / IDR 570K – Including transportation from hotel/ villa in Ubud (minimum 2 people)
45 USD / IDR 640K – Including transportation from hotel/villa in Payangan, Sanur, Canggu, Seminyak, Kuta, Legian (minimum 2 people)
50 USD / IDR 710K – including both sides of the villa / Nusa Dua, Jimbaran, Benoa, Uluwatu (minimum 2 people)
*Prices are per person
Bali Swing Opening Times + Best time to Visit
The Bali Swing is open every day from 8 am – 5 pm. We got there after changing from our floating breakfast (around 10:30/11 AM) and left before closing time. The Bali Swing can get crowded so be prepared to stand (or sit) in long queues to get your picture taken. For a late Tuesday morning, it was already semi-crowed so I recommend getting to the Ubud swing as early as possible.
A fun fact about the Ubud Bali Swing is it is UNLIMITED! You can literally be there all day from open-close. If you're photo obsessed, switch outfits and do all the swings over again so getting there early is a plus.
How to Book the Bali Swing
The best way to book the Bali Swing Package is by registering online. The process is quick, easy and admission is guaranteed when reserving online. When you book the Bali Swing online, they request information about where you're staying for an optional pickup for an additional cost. The pick up would be in the morning to get there at the opening time. The transportation also includes a drop off to your hotel or Airbnb in Ubud. You can make reservations for Ubud Swing tickets here.
Bali Swing Safety
One of the worst thing that could happen on vacation is getting hurt so a big concern about our day trip to the Bali Swing was our safety. I am happy to say that safety is a priority at the Ubud swing and it shows.
I went on a combination of at least 10 swings and nests and felt totally safe. Before getting on, the workers hook you on to a rope. There are also visible safety nets under the swings and nests. If you're terribly afraid of heights, I can't help you.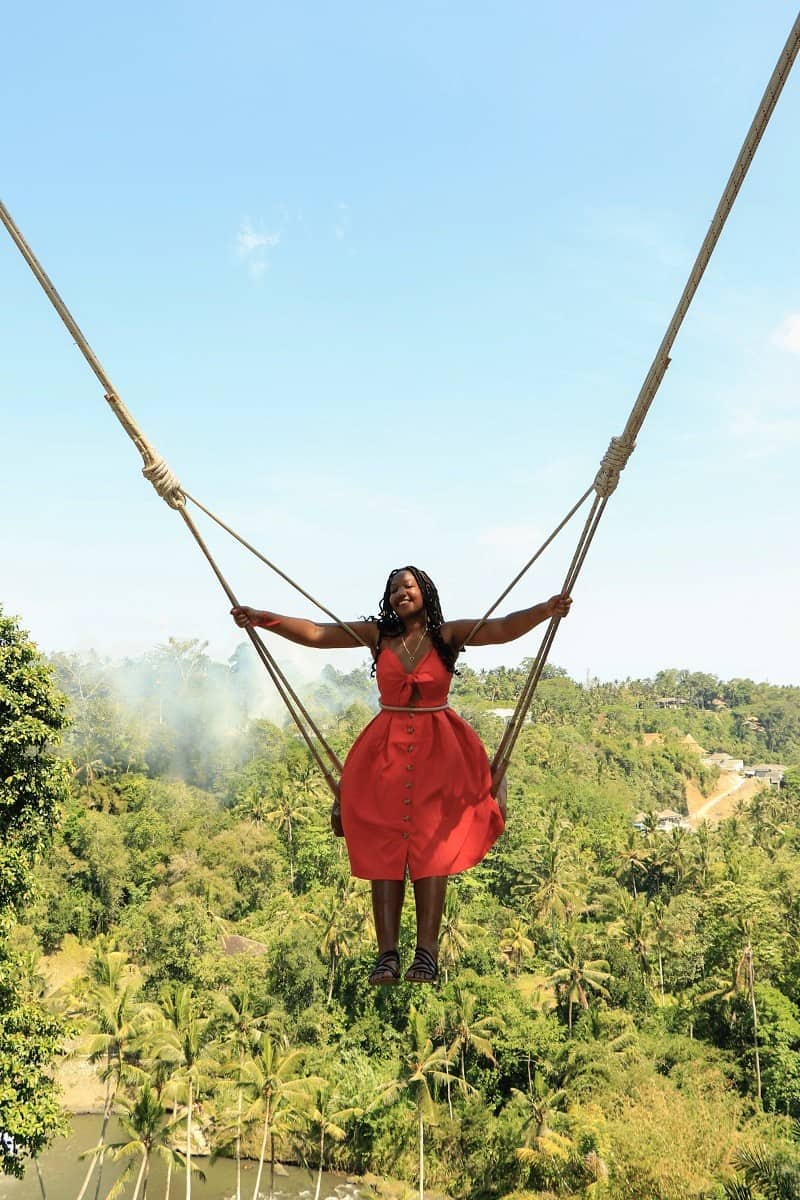 Bali Swing Ubud Review
The overall experience at the Bali Swing was great. I'm usually afraid of heights, but with the safety straps and hooks, I felt safe. The guys taking photos were also quick and provided great shots. Up until closing time, we were able to get all of our photos sent via Airdrop or USB.
If you are taking a picture with a friend or doing a couple of pictures with your cell phone, they are nice enough to take a quick picture for you. The service provided with food included was well worth the price paid. Here are some of my favorite photos from our day trip to the Bali Swing.
Another cool thing about our trip to Bali was discovering that there are other popular swings in Ubud and on the island. There's the Zen Hideaway Swing, the Tegalalang Rice Terraces Swing, Uma Pakel Swing, and more.
You May Also Like
The Best Places to Take Photos in Bali
One Day in Singapore Itinerary: Best Things to Do and See
Bali Lookbook: What to Pack for Bali + Outfit Ideas
Have you visited the Bali Swing or any other Swings in Bali?