I received priority boarding and premium wifi service in exchange for sharing my experience on Carnival Victory
My last trip for the year was spent with my oldest sister for a roundtrip 3-day cruise on Carnival Victory from Miami to Nassau Bahamas. I was nervous because of my motion sickness but excited to finally enjoy the cruise experience. In addition to packing essentials, we were excited to have some fun in the sun from the cold weather. If you're thinking about planning a quick getaway and want to try a cruise, here's our experience on Carnival Victory.
Amenities Onboard
Carnival Cruises provide unlimited pizza and ice cream 24/7 and activities for all ages. This ship has 3 large pools: King of the Seas, Triton, and Sirens. There is a "Twister" waterslide that ends at the King of the Seas pool. To keep up with the fun, we referred to the Carnival Hub app or read the daily 'Fun Times' brochure delivered to our stateroom.
Decor on Carnival Victory
Carnival Victory also displayed the most beautiful Christmas decor throughout the ship and had several events commemorating the upcoming holiday. We were able to attend both the Tree Lighting ceremony and Holiday Show in the Atrium and Caribbean Lounge areas.
Day 1 – Faster to the Fun & the Caribbean Sailaway Party
With our complimentary Faster to the Fun (FTTF) package, my sister and I received priority security, check-in, and boarding. It also gave us first access to our stateroom. If you purchase the Faster to the Fun package, it is important to note FTFT is per stateroom. Once one guest in your stateroom purchases, all occupants receive the benefits. Our room of choice was an interior room with two comfy twin-sized beds and a full private bathroom. Due to it being my sister's second cruise, her Red VIFP club status awarded us with a complimentary 1-liter bottle of water.
After getting food and familiarizing ourselves with the ship, we went to the Lido Deck for the Caribbean Sailaway Party. From Katy Perry to the Soca Boys, DJ Dawkness played a mix of EVERYTHING for everyone on board. Mr "Turn Me On", Soca artist Kevin Lyttle was even on our Carnival Victory cruise. If you like to see all of the action, the main stage on the Lido Deck is for you.
Day 2 – A Day in Nassau, Bahamas
Instead of purchasing shore excursions, we spent much of the day and early evening at the Warwick Paradise Island. I loved the service so much during Junkanoo weekend and decided to come back with my sister using a day pass. Back on the ship, we were greeted by our first towel animal creation, Red Velvet Crumble Chocolate Covered Strawberries, a Fruit Gift Basket, and a bottle of sparkling wine after dinner.
Day 3 – Sea Day on Deck 10 & On-Board Live Entertainment
We left Nassau, Bahamas early the next morning and spent the entire day at sea. Sunday morning is usually a church day for us, but we slept in late and used the early afternoon to sunbathe on Carnival Victory's Panorama Deck. We stayed close enough to hear the DJ playing musical mixes, but far enough to catch some zs. In the late afternoon and evening, we listened to Caribbean Sounds with Shirvy and saw the kids from Camp Carnival perform in the holiday show. After dinner, we checked out the live music in the Casino, Ionian Bar, and saw a musical called Vroom featuring music and dancing to music from the 60s-90s.
Although the trip was short, it was just what we needed to recharge for the busy Christmas and New Year's holidays ahead. Many thanks to the team onboard Carnival Victory for providing such an awesome first cruise experience. We already plan to do another one with the family soon.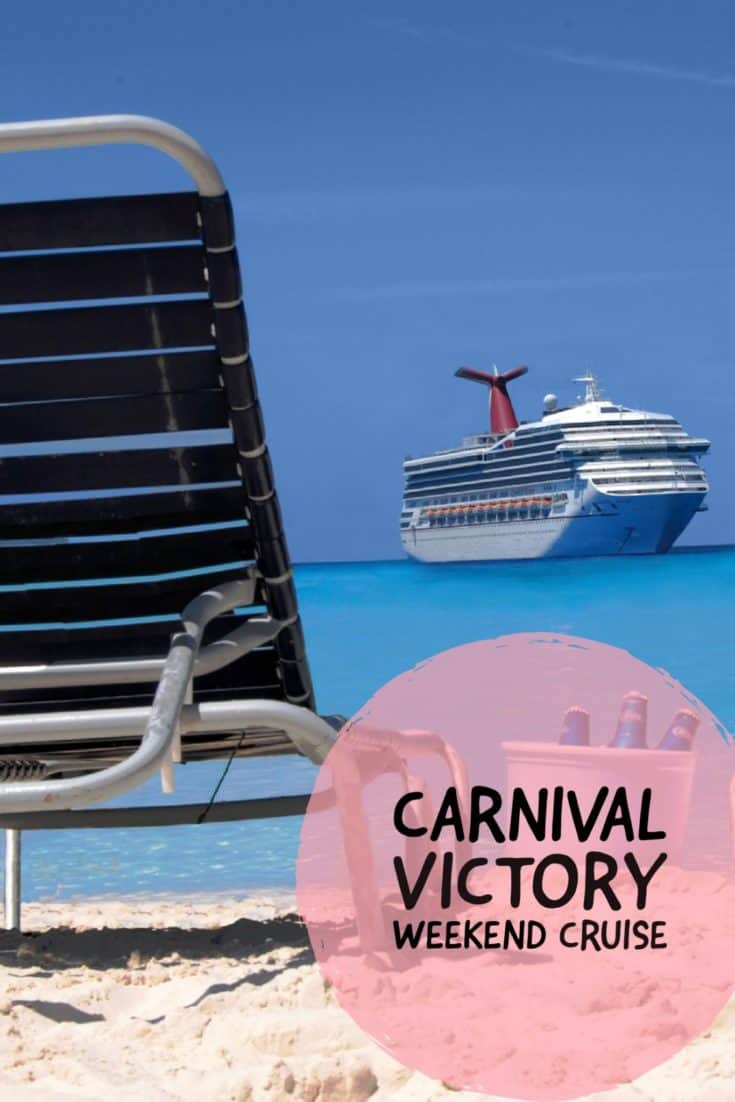 Have you experienced being on a cruise before?