Imagine being a happy solo traveler and inviting yourself to a 30th birthday trip with friends to Thailand. Well, that was me back in 2016. I had doubts because we never traveled together before, but we all had a great experience and took a trip to Morocco the next year. As we became experienced travelers, we skipped the traditional tours and created our own itineraries to Bali, and Iceland.
When we're away, I get tons of questions on how to plan a trip with friends on Instagram so I decided to put it all in a post. If you're planning a trip with friends, family, or a large group, here are some tips to keep in mind.
Plan Ahead
I usually play it by ear traveling solo but that isn't ideal when traveling with a group of friends. One of the things that made our group trips successful was planning ahead. Some were months while others were years.
Check what dates you're all free so you can select a destination, search for affordable flights, secure your excursions, put in for vacation, and save some extra money. If you don't have set dates, you can book a flight deal and cancel within 24 hours if those dates don't work.
Get to Know Your Group
So how do you travel with friends and stay friends when you get back? It is true when you say you can't travel with everyone. An important thing about planning a trip with friends is getting to know the people in your group and knowing their individual and collective travel styles. Knowing everyone's travel styles will come in handy when planning things like group activities, dining, transportation, where to stay, and even choosing roommates.
One person may like to stay up late while the other likes to go to bed early. That wouldn't be a good match. If possible, set up a group chat, virtual meet-up, or check-in periodically to talk about trip plans. As the planner, you can use information from the group chats to include in your itinerary. Group chats are also great for sharing photos during and after the trip.
Do Your Research
Going along with planning and knowing your group, accommodation research is also important when it comes to traveling with a group of friends. While looking up villa rentals for our family vacation, the house needed to have at least one master bedroom on the ground floor and enough rooms for kids and couples in attendance.
Look up different places for your group and make sure the location, costs, and amenities work for the majority. I usually play it by ear traveling solo but you can't really do that for group trips. Use the group chat to get ideas for activities and places to stay. As the planner, you can create an itinerary based on the feedback.
Talk About Finances
Everyone's finances aren't the same so I highly suggest talking about finances early in the planning phases. Be upfront with what you can and cannot afford. Setting a budget along with planning ahead gives everyone enough time to set their finances in order and bring along extra in case of emergencies.
My travel friends and I love affordable luxury travel so we find accommodations, restaurants, and transportation options we're all comfortable with.
Do Activities for Everyone
The last tip I have for planning a trip with friends is to find activities and excursions that everyone can agree on. Part of taking a vacation with friends is making sure everyone feels included and has a great time. Be open to trying new things and make sure to take tons of pictures during the trip. You can always do what you want on your next solo trip.
After hearing so many horror stories about girls' trips, I was nervous, but I love taking trips with the girls. Everything isn't perfect, I'm always looking forward to learning, laughing, and spending quality time with my travel friends.
Read More Travel Tips
Is Priority Pass Worth it? (Priority Pass Review)
How to Stay Hydrated While Traveling
How to Cure Vacation Withdrawal When You Can't Travel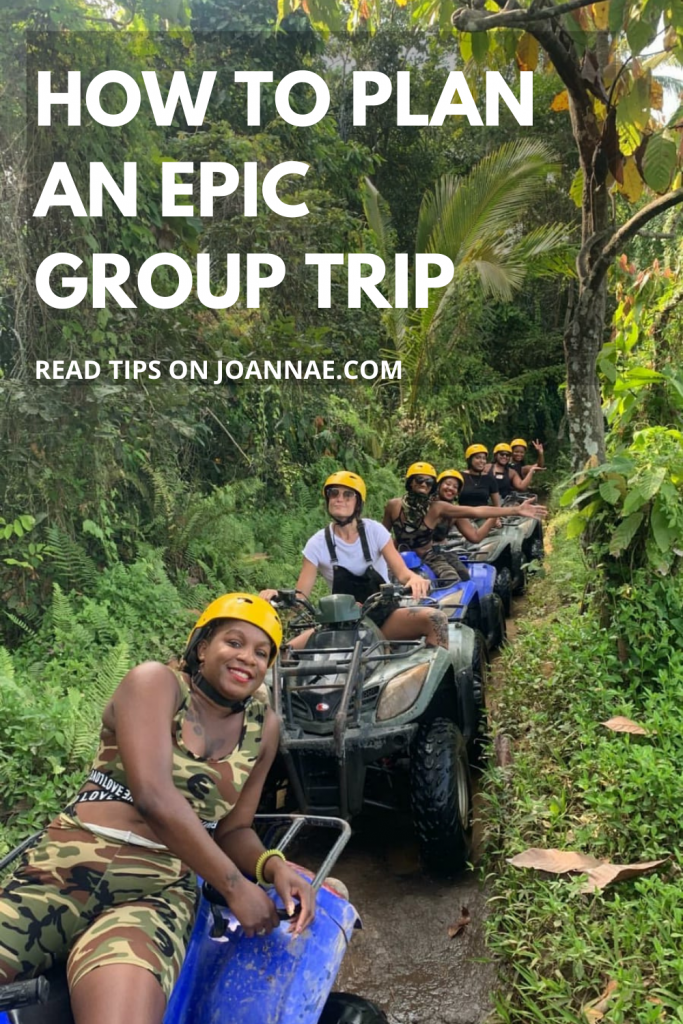 What are some other tips for group travel?